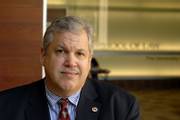 Washington — The investigation has run for two years, and it's possible the Bush administration will have left office before the charges and counter-charges are resolved.
The saga involves Scott J. Bloch, head of the Office of Special Counsel, the small agency that handles federal employee whistle-blower cases and investigates improper political activities on government property.
Bloch, a Bush appointee and former Lawrence attorney, has been accused of retaliating against employees who disputed his policies, unnecessarily reorganizing his office to try to run off critics, and arbitrarily dismissing complaints submitted by federal workers to reduce a backlog of claims.
In 2005, a group of anonymous employees, joined by public-interest organizations, filed a complaint against Bloch, which the White House referred to the inspector general at the Office of Personnel Management for investigation. Bloch has denied the allegations.
This week, a lawyer representing the employees wrote to White House counsel Fred Fielding urging him to request an interim report from OPM "regarding what its investigation has uncovered to date, and to explain the reasons for its long delay in concluding this investigation."
Debra S. Katz, the lawyer, contended that Bloch "has succeeded in obstructing and delaying this investigation," most recently by directing current and former staff aides to refuse to provide answers to questions from the OPM inspector general, Patrick McFarland.
In the letter, Katz said that "Bloch's end-game here is obvious. He intends to play out the clock through the end of the president's term and avoid any responsibility or consequences for his misconduct."
Bloch, in a statement, called Katz's letter "rehashed allegations of obstruction that are false. I have fully cooperated with and never impeded the investigation, and agree that the OPM IG should explain its long delay in completing this now two-year-old investigation."
The controversy underscores the tensions inherent with independent agencies, such as the Office of Special Counsel, and the difficulties that can arise when the investigator is investigated.
Bloch, for example, has launched a probe into whether campaign briefings given by White House aides to political appointees at federal agencies crossed the line and violated the Hatch Act, the decades-old law that prohibits partisan activities in the federal workplace.
He told The Post in April that the Hatch Act probe did not present a conflict of interest, adding that "it would be inappropriate for the White House to interfere with my independence."
But some of Bloch's critics contend he is playing politics when he makes such assertions. "OSC is the right agency, but Scott Bloch is the wrong government official to conduct a credible investigation of politics corrupting the merit system," Tom Devine, legal director of the Government Accountability Project, said Thursday.
In an unusual step, Devine, Jeff Ruch of Public Employees for Environmental Responsibility and Danielle Brian of the Project on Government Oversight sent a letter this week to the Senate Homeland Security and Governmental Affairs Committee asking that it not support higher funding for Bloch's office in fiscal 2008.
Bloch's office, which has 113 employees, has said it needs an additional $3 million for Hatch Act investigations, primarily to hire technical experts who can extract documents and e-mails from computer systems. The White House had requested $16.3 million for the office next year.
As part of the Hatch Act initiative, Bloch has created a special task force, which has six staff members and a manager. The task force supplements the regular Hatch Act staff of five.
But the watchdog groups, in their letter, said they did not trust Bloch, adding that his office "cannot take on any more responsibilities without further abandoning its primary constituency: government whistle-blowers."
Leslie Phillips, spokeswoman for Sen. Joseph Lieberman, I-Conn., chairman of the Senate committee, said Lieberman has expressed support for additional funding for Bloch's office, "but he remains deeply concerned about the serious allegations that led to the IG investigation."
Copyright 2018 The Lawrence Journal-World. All rights reserved. This material may not be published, broadcast, rewritten or redistributed. We strive to uphold our values for every story published.