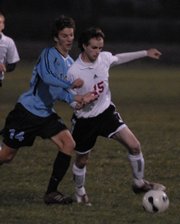 Taylor Bussinger's face was speckled with sweat after another long Lawrence High soccer game saw a familiar result Thursday night - a 2-0 loss to Shawnee Mission East at Youth Sports, Inc.
But the senior midfielder may have been the only one sweating, as LHS mounted few scoring chances on the chilliest night of the soccer season.
"It's weird playing soccer in this weather," Bussinger said of game-time temperatures in the low 50s that seemed only to dip lower. "You see it on the football field, but not much here. (Midfielder) Spencer (Scott) said I was steaming off the top of my head."
With every header and slide tackle stinging just a little more and the players' breathing patterns appearing in the frosty air, the Lions struggled mightily and couldn't avoid reaching double-digit losses on the season (3-10-1, 1-8 in Sunflower League play).
"I was over there when we were warming up. It was like 70 degrees," sweeper Rex Hargis said. "I look over there again, and it was like the fog was coming in, and I just told everyone to give everything they had because it was going to be cold."
The Lancers (7-6, 5-4), who unveiled long-sleeve jerseys for the game, handled the adverse conditions, netting two scores on their 12 shots on goal. Lawrence meanwhile, which scored goals in its previous three games, managed only one shot on goal.
Adding to the misery, LHS was without its first- and second-string goalies. Sean Simmons was injured last week in a player collision, and Drake DeBiasse earned a controversial red card the previous game, leaving Sam Wessels to man the net for the Lions.
"Sam played very well," Bussinger said. "Coming in, we were a little bit worried, but Sam stepped in really well. The goals were just unfortunate."
Aside from the cold, the biggest factor on the field was a lack of communication by LHS at the back end, which allowed SM East to pick through the Lions' defense.
Lancer senior Alex Rathbun turned at midfield and dribbled down the field unmarked before unloading a shot that deflected off an LHS player into the left side of the net in the 14th minute.
"Their first goal, we had three guys around him, but they didn't want to get beat," Hargis said. "No one stepped up, and then he made a really good shot in front of all us in the side netting."
The adventures continued throughout the game before Michael Cray rolled a slow bouncer past Wessels for the final goal in the 77th minute.
Now, the Lions have two games left before entering an eight-team sub-state field. In order to advance past that, LHS will need to win as many games as it has all season.
Lawrence head coach Bill Kelly views the regular season as merely a tune-up for sub-state play and said once the playoffs begin, anything can happen.
"If we continue to improve and don't get our heads down, I think we can surprise some people," Kelly said. "I've felt that all year, but sometimes the mental length of the season takes its toll on kids. They just have to step up and be men and power through it."
Wearing some warmer duds couldn't hurt, either.
Copyright 2018 The Lawrence Journal-World. All rights reserved. This material may not be published, broadcast, rewritten or redistributed. We strive to uphold our values for every story published.