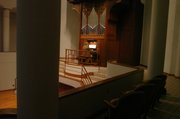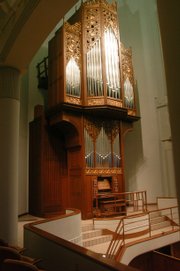 Past Event
When: Thursday, October 11, 2007, 7:30 p.m.
Where: Bales Organ Recital Hall, 1600 Stewart Drive, Lawrence
-->
-->
The Bales Organ Recital Hall quietly turned 10 years old last year.
There was no fanfare, no anniversary celebration, just a dutiful continuation by the decade-old instrument and its venerable home to showcase the performances - from lessons to recitals - of Kansas University students, faculty and visiting artists.
It's 2007 that marks the accomplishment the hall's founders have been coveting.
"Our number one goal since we opened the recital hall has been to start a major series and bring the greatest organists in the world here," says Michael Bauer, professor of organ and church music at KU.
A gift from Polly Bales, a KU alumna from Logan whose family's contributions established the hall, has made that possible. A new subscription series of organ recitals with accompanying master classes and lectures by four major artists launches Thursday with a 7:30 p.m. concert by Kimberly Marshall, organ professor and director of the music school at Arizona State University.
Future installments in the Bales Artist Series will feature Lynne Davis, of Wichita State University; Roberta Gary, of Cincinnati's College-Conservatory of Music; and Susan Landale, of London's Royal Academy of Music, who dedicated the organ in 1996.
"We needed a series that would befit the performance venue that we have - not because I say so, but because everyone from all over the world that's been here says it's the finest facility of its kind," says James Higdon, the Dane and Polly Bales professor of organ at KU.
The main purpose of the series is to expose students - there are about 24 majors in the program at a time - to the field's top artists, who will be available to teach, counsel and meet informally with them.
Naturally, organizers also hope the public will attend.
"The subscription price for the whole series is only $40," Higdon says. "We're trying to make this available to everybody so that no one will feel that they can't afford it."
Even veterans of the Bales concert experience may be unfamiliar with the rarity of the hall - and the reason music sounds so stunning there.
The architect, acoustician, organ builder, organ faculty and university representatives worked together throughout the planning and construction phases, tailoring the building to perfectly suit the instrument designed for it.
"We're still pinching ourselves because this facility has turned out to be one of the finest facilities, probably not just in this country but anywhere in the world for hearing organ music," Bauer says. "It's a spectacular hall, and the organ is one of the finest in North America.
"Now being able to bring the best organists in the world here to play it kind of completes the picture."
Before Bales, KU students and faculty played organs at Swarthout Recital Hall and area churches. Now the program has a single-purpose facility that's accessible to students 24 hours a day.
In addition to instruction, rehearsal and the new subscription series, the hall is home to a choral series, a new in-house choir, an annual organ, brass and percussion recital, and a series of free student, faculty and alumni concerts.
Higdon says some people don't even know the hall exists. Yet audiences have been good through the years. Even student recitals frequently fill the hall to more than half its capacity, Bauer says.
"The organ is an instrument that ... can express the majesty and depth of emotion that you miss a lot of times from instruments that cannot produce that kind of sound mass. And yet it also can be very delicate," Bauer says. "And it's got a historic tradition that traces back 1,000 years.
"In the Middle Ages, this was one of the most technologically advanced pieces of equipment known to Western man, and it has retained some of that fascination, I think."
COMING EVENTS
Kansas University will celebrate a decade in the Bales Organ Recital Hall with "An Introduction to Organ Building: A Conference Celebrating the First Ten Years of the Bales Organ Recital Hall and Hellmuth Wolff & Associes, op. 40."
The conference, designed to teach the basics of organ building, is intended for church organ committees, organ students and potential organ builders. It takes place Thursday through Saturday at the recital hall.
Topics include "The Process of Building an Organ," "Acoustics for Organ Spaces," "Mechanical Actions," "Pipemaking" and more.
Registration is $100 for the public and $50 for students. Registration forms are at www2.ku.edu/~organ.
In conjunction with the conference, the Kansas City Chorale will perform at 8 p.m. Friday at the hall. Admission is included in the conference registration fee. Or general admission tickets are $25 for the public and $20 for seniors and students.
Kansas University's music and dance department announces the inaugural year of a new subscription series of organ recitals with accompanying master classes and lectures presented by four major artists who will perform and teach at the Bales Organ Recital Hall.
The series is made possible because of a gift by Polly Bales.
The inaugural recital in the Bales Artist Series is presented by musician Kimberly Marshall at 7:30 p.m. Oct. 11.
Marshall is the Patricia and Leonard Goldman professor of organ and director of the School of Music at Arizona State University. A former winner of the prestigious "St. Albans International Organ Competition," Marshall has issued many recordings including works by Italian, Spanish and French composers and organ music of Bach. Her performing career has allowed her to perform on many of the world's most notable organs, and she has been a featured artist at many national and international conventions and conferences. She has published extensively, with several books, many articles and a number of anthologies to her credit.
Future installments will include:
¢ Lynne Davis, Ann and Dennis Ross associate professor of organ at Wichita State University, 7:30 p.m. Nov. 9. Master class/lecture: Nov. 10.
¢ Roberta Gary, professor of organ, University of Cincinnati's College-Conservatory of Music, 7:30 p.m. Feb. 1. Master class/lecture: Feb. 2.
¢ Susan Landale, professor of organ, Royal Academy of Music, London, 7:30 p.m. April 18. Master class/lecture: April 19.
For more information about the Bales Artist Series, call 864-2797 or go to www2.ku.edu/~organ/randc/bas.shtml.
Copyright 2018 The Lawrence Journal-World. All rights reserved. This material may not be published, broadcast, rewritten or redistributed. We strive to uphold our values for every story published.