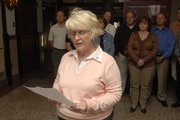 Fewer homes are being sold and at lower prices than last year in Lawrence, but the numbers are far less fearsome than national reports would suggest, leaders of the Lawrence Board of Realtors said Monday.
And while the board's numbers cast a more optimistic market tone than official numbers compiled by the Douglas County Appraiser's Office, the difference still isn't enough to compare Lawrence's relative slowdown with the sinking prices and sales figures hitting places like Las Vegas, San Diego and other formerly red-hot markets.
"Buyers are a lot more careful here, but it's nowhere near the stories I'm hearing when I talk to my cohorts in other parts of the country," said August Dettbarn, who tracks sales trends as the county's appraisal manager. "I have a friend in California, and some of the horror stories he tells are really, really scary."
Stories like neighbors, living in similar houses across the street from one another, resorting to "reverse pricing" - repeatedly cutting their list prices, fearful that they won't be able to attract buyers unless they offer the lowest price, no matter how low.
"It's like a gas war," Dettbarn said. "We haven't seen that here yet."
But considering such consumer fears - about price cuts, sliding values, unavailable mortgage financing and an inability to sell - is what convinced board leaders in Lawrence to compile basic information about their home market.
There are still plenty of financing options available to buyers, said Mary Jones, president of the Board of Realtors. And homes actually have sold faster during the past year - after 122 days on the market, on average - than the 133-day average of 2006.
Prices are down, on average, by 2.57 percent, she said. And the number of homes sold in the city dropped to 963 so far this year, down 5.5 percent from the same period a year earlier.
But such market realities are no reason to panic, she said, with interest rates still low and plenty of inventory available for buyers to choose from.
"It's an adjustment time," she said of the Lawrence market, lamenting the "doom and gloom" vibe she considers pervasive nationwide. "Everything has cycles, and everything adjusts, and we're just in a little adjustment period."
While Jones and her fellow board leaders took their numbers from the board's own database, which is accessible by Realtors, Dettbarn keeps a database of all such transactions throughout the county.
And through the first nine months of this year, Dettbarn shows that 1,271 single-family homes have been sold in Lawrence and North Lawrence. That's down 296 - or nearly 19 percent - from the 1,567 sold through September 2006.
Prices are holding relatively steady, Dettbarn said. The median price in Lawrence is down $950, or less than 1 percent, to $163,750 so far this year; in North Lawrence, which is tracked as a separate market by the appraiser's office, the median is $122,500, down 3.5 percent.
Dettbarn isn't fazed by national reports, dominated by mounting foreclosures and a credit crunch and properties languishing on the market for months and months.
While some high-end homes in certain pockets of Lawrence are pushing two years on the market, Dettbarn said, homes listed for less than $200,000 aren't staying available for long.
"Cheap stuff is still selling like hotcakes," Dettbarn said.
Copyright 2018 The Lawrence Journal-World. All rights reserved. This material may not be published, broadcast, rewritten or redistributed. We strive to uphold our values for every story published.