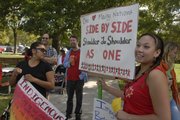 Rae Lynn hopes a protest march on Monday educates the community and, perhaps, serves as a catalyst for change.
Lynn, a Haskell Indian Nations University senior, was among about 100 people who first gathered at South Park and then carried their protest of Columbus Day into downtown Lawrence.
"We want to generate discussion within families," Lynn said. "For them to talk about why we actually celebrate this holiday."
Last week, Lynn and others from Haskell unsuccessfully lobbied the city to change the holiday's name from Columbus Day to "Indigenous Peoples Day." On Monday she participated in the second annual demonstration against the holiday in Lawrence.
The event, organized by Haskell's American Indian Studies Club, included speakers presenting their views and reciting poetry, and people singing songs.
Jodi Voice, a Haskell sophomore, attended the 2006 rally. She said she wanted this year's event to focus on awareness and education.
"We're here to educate everyone," Voice said. "You see people walking around, and they could stop and hear something and remember that for another day."
After the gathering in South Park, attendees took to the streets with signs and banners. They marched along Massachusetts Street to chants of "We will never go away, this is Indigenous Peoples Day" and "Fight imperialism, fight genocide, no more Columbus Day."
"It's a time for celebration," Haskell senior Jimmy Beason said of the event. "We're still here, we're still resisting."
The day's events concluded at Haskell, where participants took part in "teach-ins" and discussions concerning the demonstration and the march.
Copyright 2018 The Lawrence Journal-World. All rights reserved. This material may not be published, broadcast, rewritten or redistributed. We strive to uphold our values for every story published.