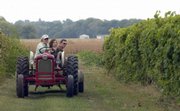 John Pendleton is keeping an eye on the weather, as he does every day.
But lately, he's had more on his mind than how weather conditions affect his crops. He has been hoping for sunshine for the Kaw Valley Farm Tour, which takes place this weekend at 15 farms around the area.
So far, the weather has cooperated, giving people a chance to learn more about the many and varied farms that dot the region.
"I think that with less than 2 percent of the population being involved in agriculture, it's a good opportunity for people who don't know about local farms and the face of agriculture to get a closer look," Pendleton said.
His farm, Pendleton's Country Market, was offering a children's play area and a butterfly tent, and was allowing guests to test antique farm equipment.
"As a group, you can introduce farming to more people that don't come out to farms," said Greg Shipe of Davenport Orchard, Vineyard and Winery in Eudora.
Charlee Glinka, also of the Eudora winery, said part of the focus is to promote Kansas-grown products, even with nontraditional goods like wine.
About 500 cars registered to participate in the two previous farm tours. Shipe predicted a similar turnout this year. He said people from Lawrence, Kansas City and Topeka have stopped by to taste the award-winning wines he and Glinka produce.
But it's not just people from the surrounding areas who are learning about agriculture on the Kaw. Birgit Steingraeber-Klinke, a teacher from Lawrence's sister city, Eutin, Germany, was amazed at how big farmland is in the area.
"Everything is enormous," she said. "Living in Eutin, they have large farms, but everything here is so huge."
While education is a key aspect of the farm tour, it's supposed to be fun for farmers and tourists alike.
"It's really fun to work with the other farms with the goal of creating the opportunity for families and individuals to see something different and be exposed to different types of agriculture that is in our area," Pendleton said.
The farm tour continues at 9 a.m. today at Pendleton's with a farm breakfast featuring Kansas-grown goods. Tickets can be purchased online at quiltingfabricsupply.com or through various merchants in Lawrence.
Copyright 2017 The Lawrence Journal-World. All rights reserved. This material may not be published, broadcast, rewritten or redistributed. We strive to uphold our values for every story published.