Chat about the Kaw Valley Farm Tour with Karen Pendleton
October 5, 2006
This chat has already taken place. Read the transcript below.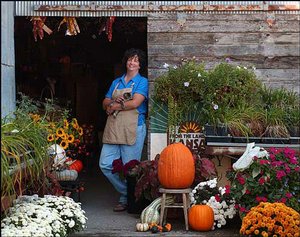 Karen Pendleton is co-owner of Pendleton's Country Market east of Lawrence and chair of the 2006 Kaw Valley Farm Tour. The tour, in its second year, will be Oct. 7 and 8 and encourages visitors to tour some of more than a dozen area farms that have signed up to participate. Pendleton can answer questions about the tour or any of your other gardening questions.

Moderator:
Hi, everybody. Karen Pendleton, chair of the Kaw Valley Farm Tour, is here to answer your questions about the tour and other farm- and garden-related issues today. I'm Terry Rombeck, a Journal-World features reporter, and I'll be moderating the chat. Feel free to ask your questions any time during the chat. Welcome, Karen.
Moderator:
You can read a story about the farm tour at http://www2.ljworld.com/news/2006/oct/05/down_farm/?living
Karen Pendleton:
Hi everyone, I hope you will join us on the farm tour this weekend.
Moderator:
This is the second year for the farm tour. Please give us the overview of the events.
Karen Pendleton:
We have 14 farms that will be open for people to visit. Each farm has special activities that they wouldn't normally have going on. We have elk and bison ranches, pumpkin patches, apple orchards, wineries, chestnuts, and turkey and goat farms on the tour. There should be something for everyone.
The tour is very family friendly, with things to interest adults and children. Many of the farms have added children's activities such as arts and crafts, playgrounds, mazes, and games.
Almost all of the farms will have their goods for sale. Everything from plants, pumpkins, meat, cider and other value added items will be for sale. Here is your chance to support local farms by buying their products as you visit their farms. You can start your Christmas shopping early!
There is also a picnic Saturday evening that families would enjoy. The picnic will be held at Pendleton's Country Market, and the band Prairie Acre will add to the enjoyment.
People can buy tickets for the picnic ahead of time at Community Mercantile, and there will also be tickets available at the farm. The picnic menu features local foods including beef chili, vegetable mushroom chili, corn bread with honey butter, Becky Ott apple pie, cider and coffee. $10 for adults and $5 for kids. The picnic will run from 6 - 8pm
Moderator:
There's been a lot of talk of agri-tourism in the state lately. How does the farm tour fit into agri-tourism efforts in this part of the state?
Karen Pendleton:
The tour was started with agri-tourism in mind. Being more of an urban county, Douglas county farms have the opportunity to capitalize on the population of Kansas City, Lawrence and Topeka. Farmers in this area are becoming more diversified, and can offer local produce, meats and farm products to those in the area.
It used to be that everyone could go visit Grandma's farm at Thanksgiving, today, most people are 2 or 3 generations from the farm, and this tour allows people to visit a real farm, see the value in their lives, and support local food.
Moderator:
Here's a submitted question sort of tied to that "grandma's farm" concept.
Hi Karen. I grew up in a rural area of Kansas, and many of the kids in my school lived on their families' farms. These kids were often very mature and hardworking. They would wake up very early and do chores, and they never got a weekend off from their duties. Many kids in Lawrence wouldn't know hard work if it landed at their feet. Is there an opportunity for troubled teens to do some "community service" on these farms? If not, do you think it'd be a good idea?
Karen Pendleton:
You would have to talk to each farmer about having kids out ot their farms. I've had a number of parents ask me to "teach their children to work." Maybe if the kids went on the farm tour, and saw a farm that interested them, they would want to work there. Most of the farms on the tour are family run, and don't have employees. They are mostly small operations and may not be able to integrate kids who need supervision.
You folks seem to find so many innovative ways to make a farm work and to bring the farming experience to the public. Are you considering any explorations into biofuel crop or wind energy options?
Karen Pendleton:
On my farm we are always looking for things that will generate an income and allow us to stay on the farm. There is a group in Douglas County, the Agribusiness Network, that is looking at biofuel production. Just yesterday we had a windmill delivered that we hope to help pump water for our drip irrigation system.
Your business sustained a lot of damage during the microburst last year. How's the recovery coming?
Moderator:
While we're at it, here's another question about your farm.
Karen Pendleton:
We are still cleaning up, tearing down, and rebuilding. Every building, piece of equipment, and vehicle on the farm was damaged or destroyed - what a day!! If you come out on the tour you will see a combination of new construction and damaged buildings. The Alferd Packer Memorial String Band has offered to do a "Barn Storm" benefit for our farm, October 15th at 6pm. (Thanks for letting me get in a plug). We invite everyone to come on down for music, food, and neighborly fun. Free State Brewing, Community Mercantile, Suspertarget, Pro Print are helping to sponsor this event.
We also have a new dance floor (built for the Bunker Hill movie) that we want to break in!
Moderator:
I was just checking, and the weather for the weekend looks beautiful for the tour. Anything else you'd like to add about it, or anything else people should know?
Karen Pendleton:
We still need a few more volunteers to help as greeters at the farms. It is a great opportunity to get out to a farm, and then you could start your tour from there, after your volunteer shift is over. Volunteers receive afree t-shirt and admission to the Farm Tour. To volunteer, contact Bill Wood at the DG County Extension Office - 843-7058.
Tickets are available at the Extension office - 2110 Harper, Community Mercantile - 9th and Iowa, the Visitor's Center - at the Depot in North Lawrence, and Saturday morning at the Farmers' Market. Tickets are also available at each farm the days of the tour.
With the $10 ticketyou will also receive coupons for specials at each farm. Each farm has put coupons into the guidbook, that can be used on a return visit to the farm. The $10 is per car load - a car load can be a single person in a car or up to a bus with 40 people.
Moderator:
Thanks, Karen, for coming in today. Good luck with the tour!