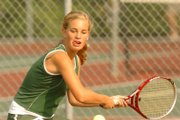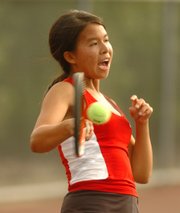 A broken string during warmups proved to be a bad omen for one player and nothing more than an obstacle to overcome for another, as the Lawrence High and Free State High girls tennis teams took to the courts for regionals Thursday at the Lawrence Tennis Center.
Free State senior Carly Fish snapped her string prior to her singles match against second-seeded Alex Crowe, of Shawnee Mission Northwest.
"It was either me swinging really hard or her," said Fish after the match, a 6-0, 6-0 loss that ended her season. "It might have been her."
Despite falling in the opening round, Free State's No. 15 seed did her best to give Crowe a good match. In the end, though, Crowe was simply too powerful and precise with her shots.
"When I saw her walk onto the court with the massive racket bag, I figured she was pretty good," Fish said.
It wasn't until after the match that Fish learned about Crowe's high seed.
A few matches later, Lawrence High sophomore Marcy Vickers suffered the same fate as Fish, when one of her strings gave out prior to her and playing partner Elizabeth Simons' doubles match against Leavenworth.
The bad racket didn't knock the Lions off track, though, as Vickers and Simons prevailed in one of the longest first-round matches, 6-4, 2-6, 6-4. Despite losing the middle set, Simons said the girls pulled out the victory because of their attitude.
"We just tried to stay positive the whole time," she said. "We gave each other compliments and said things to make each other laugh. Whatever we could do to remain positive."
It worked.
After falling behind 3-0 in both of the first two sets, LHS's top duo jumped out to a 3-0 lead in the deciding set and went on to victory.
In the second round, Vickers and Simons, both sophomores, suffered a letdown. The energy and emotion of the first-round victory did not carry over to the quarterfinals, and they lost 6-2, 6-2 to the tournament's No. 3 seed.
"I think they just expended a little too much energy in that first match, and it was just too much of a mountain for them to climb," LHS coach Steve Hudson said. "But I think it was great experience for them for the next two years. They're hurting mentally because they wanted to win so bad."
While Lawrence High just had one shot at advancing to state, Free State wound up with two. In another grueling doubles match, Mackenzie Lown and Lauren Thames knocked off Olathe East in three sets to move to the second round.
Like their LHS counterparts, Lown and Thames also won the third set after dropping the second.
"I think we were just really determined to win that match because it was Olathe East," Lown said of the Olathe East team that beat up on just about everyone Thursday. "Losing that second set kind of pumped us up to come back in the third."
After the match, the Firebirds had fewer than 15 minutes to regroup before hitting the court in the quarterfinals against top-seeded Olathe Northwest. Lown and Thames put forth their best effort against the Ravens' Boeh twins, but the top seed was simply too much. Free State lost, 6-2, 6-2.
Free State's other shot at reaching state also ended in the quarterfinals when No. 1 singles player Jessica Wuthrich was beaten, 6-0, 6-0, by Olathe East's Kristen Stivers.
Wuthrich reached the second round with a straight-set victory of her own, 6-0, 6-0, over Leavenworth's Natalie Edwards in Round One.
Despite losing one match short of the state tournament, Wuthrich, an exchange student from Switzerland, said she enjoyed her first experience at regionals.
"It was fun," she said. "I liked playing (Stivers) because she was good but not too good - just a lot of fun to play."
Free State's only other entrant in Thursday's tournament, doubles team Sierra Amon and May Simpson, fell in the first round, 6-4, 6-1, to Jona Jonjic and Katie Von Saun of Shawnee Mission Northwest.
Vickers and Simons were the only Lions to advance Thursday, as singles players Xin Liu (6-1, 6-2) and Yoshika Crider (6-0, 6-3) lost in the first round. LHS's No. 2 doubles team of Lin Chen and Jordan Payne also was knocked out in the first round, falling to Olathe East, 6-0, 6-0.
Copyright 2018 The Lawrence Journal-World. All rights reserved. This material may not be published, broadcast, rewritten or redistributed. We strive to uphold our values for every story published.