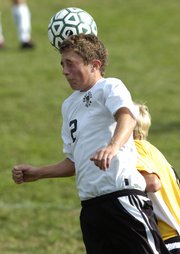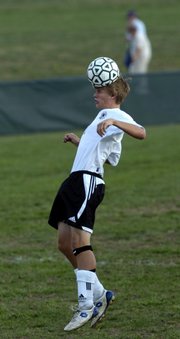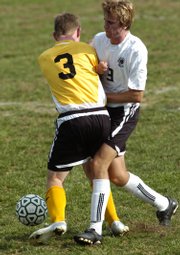 Seven games into its schedule, Free State's boys soccer team appeared to be in the midst of a dream season. Then, the magic-carpet ride sputtered and crash-landed with three consecutive scoreless defeats.
Fortunately for the Firebirds, they regained their form in time to transfer the spell onto Blue Valley on Thursday afternoon at FSHS, shutting out the Tigers, 2-0.
"We were victims of the bad luck that we created for ourselves," Free State head coach Jason Pendleton said of last week's rough patch. "Sometimes you're the bug, sometimes you're the windshield. Last week we were clearly the bug, and today I think we were definitely the windshield in terms of how things worked out for us."
Firebirds forward Alex Clayton struck first just one minute into the game, rebounding Erik Slan's shot off the post and tapping it into an empty net. The score remained 1-0 until Slan nailed an indirect free kick through Blue Valley's wall and into the left corner of the net in the 68th minute.
Clayton said despite the game being a break from Sunflower League competition, the win was important for the team's psyche, which was bruised by being scored upon six times the previous three games.
"We outscored our opponents by an overwhelming number the first few games," he said of the team's 29-4 scoring margin in beginning the season 6-1. "At the first sign of adversity, we kind of buckled. This was a huge win today to set us up for Saturday because we're back in league. It wouldn't have been good to play Leavenworth with four straight losses."
Both teams managed just five shots on goal. But the Firebirds (7-4) made the most of those chances, while Blue Valley (7-6) was unable to capitalize, thanks to back-to-back diving saves by Free State goalkeeper Frank Hurtig near the end of the first half.
"They had a spell in the last 10 minutes of the first half where they were just pounding, and Frankie met everything and kept our net pure," Clayton said. "It's good to have a keeper like Frankie with those reflexes."
Pendleton was particularly proud of the way his team grinded out the victory and knows full well how critical wins like that will be toward seeding come playoff time.
"We're still in the mix to control our destiny and possibly create a better seed for ourselves at the end of the year," Pendleton said. "You lose this and then you're fighting uphill.
"I thought we definitely played well. And even if we didn't, we're going to take the win."
Copyright 2018 The Lawrence Journal-World. All rights reserved. This material may not be published, broadcast, rewritten or redistributed. We strive to uphold our values for every story published.