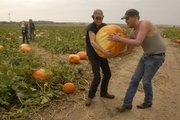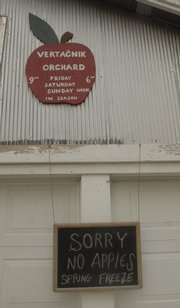 Pull into the driveway at Vertacnik's Orchard east of Lawrence and you'll see a sign that sums up a sad season: Sorry No Apples Spring Freeze.
It's hard to know who's more disappointed by the chalk-written message: David Vertacnik or his customers.
"Usually I'm mowing in here and just picking off the tree and chomping down as I drive along," Vertacnik said, looking at his empty apple tree branches. "Not this year. It's scarce."
The apple pickings are slim for everyone this year. In a matter of three days in April, the region's apple crops went from golden and delicious to sad and sparse.
"It was gorgeous, one of the best blooms that I can recall," Vertacnik said. "Every tree, the small ones up to the large ones, just had incredible blossoms. Nice and fragrant. Then, all of the sudden, it just dropped right out."
An Easter weekend freeze brought record low temperatures in Lawrence: 19 degrees April 7 and 17 degrees April 8. Because of that cold snap, now you're more likely to find spiders hanging from Vertacnik's branches than apples.
"There were 10 apples at most," he said.
But that cold weather did not destroy all of fall's favorite crops. Schaake's Pumpkin Patch boasts lots of the big, colorful gourds this year.
"Unless we get a big storm with hail in it, we should be pretty good for the month," Janet Schaake said.
Schaake said the pumpkin crop, planted in June, missed the spring freeze but still ran into triple-digit heat in August.
The hot, dry summer, combined with a warm fall, could contribute to less color in trees this season. The U.S. Department of Agriculture's Forestry Service predicts fall colors will peak in Lawrence this week. But Stan Ring, an extension master gardener and Douglas County horticulture assistant, warns that's not a guarantee.
"Heavy rains in early spring or hot, dry weather during the summer can negatively affect fall color," Ring said. "A warm fall will lower the intensity of color."
As autumn-lovers look for the crimson maple and yellow birch leaves to turn, Vertacnik looks, with hope, to spring.
"Maybe they'll come on stronger next year," he said of his apple crop. "Maybe we'll have something to look forward to."
Copyright 2018 The Lawrence Journal-World. All rights reserved. This material may not be published, broadcast, rewritten or redistributed. We strive to uphold our values for every story published.