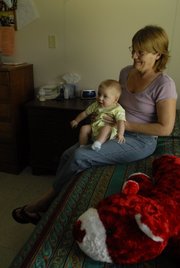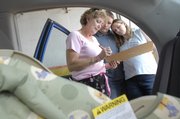 At a one-time nursing home on Lawrence's southwestern side, women arrive in hopes of curing their alcohol or drug addiction. They bring their children with them.
The facility, overlooking a bucolic pond, is managed by DCCCA Inc.
A good 30 miles away, sex offenders at Lansing Correctional Facility are required to go through treatment with DCCCA counselors.
Going south to Columbus, teenage girls with emotional and behavioral disturbances live in DCCCA-operated group homes.
And throughout the state each spring and summer, DCCCA employees don bright orange vests, stand along roads and count the number of seat belts being used by people in passing cars.
It's the DCCCA of 2007, which has come a long way from the nonprofit organization that began in 1974 with $7,500, two employees and a goal to bring alcohol treatment to Douglas County.
Today, the Lawrence-based nonprofit has more than 500 workers throughout Kansas and Colorado. It is expected to see $35 million in revenue this year.
You can find the agency's name in telephone listings, but walk-ins are rare.
Some 80 percent of its money comes from government contracts, much of it from Kansas social services, transportation and corrections departments.
DCCCA is one of the largest drug and alcohol treatment providers in the state and is the sole state-contracted agency that treats imprisoned sex offenders and offenders on parole.
In the past decade, its biggest diversion has been into child welfare, which makes up the largest chunk of its budget today. More than half the children in the state's family preservation program are under DCCCA's oversight.
"We're not a monopoly, but we are a major player," said Bruce Beale, DCCCA's executive director.
Beale, who joined the agency six months after it was established, said the many-branched tree that is DCCCA comes from a business-minded approach to a nonprofit. The agency saw opportunities to diversify and ran with those opportunities.
It also was beneficial that DCCCA was prepared to step up at a time when more and more Kansas social services became privatized.
"Diversification has been a saving grace," said Alice Lieberman, a professor of social welfare at Kansas University.
From alcoholism to seat belts
In 1974, a group of residents formed the Douglas County Citizens Committee on Alcoholism - DCCCA, for short.
Bob Georgeson, a former Lawrence banker and the agency's first president, said residents saw a community that needed alcohol treatment, and a state that was looking for places to provide funding for just that. At the time, the closest detox center was at St. Francis Hospital in Topeka.
"The government wanted to solve the problem with money, and someone needed to be there to catch it," Georgeson said.
By the start of the next decade, the organization had its first statewide contract, doing educational programs on the dangers of drinking and driving.
"The intent was not to grow for the sake of growing. It was to have a secure funding basis so we weren't at the whim of a particular grant or foundation," Beale said.
Later, DCCCA picked up the state contract for its seat belt safety campaign, which was budgeted for $680,0000 in 2007.
The costumes for Vince and Larry - otherwise known as the crash test dummies - sit in the basement of DCCCA's headquarters. In the office of the program's director, Norraine Wingfield, posters and stickers cover the walls with catch phrases such as "Click It or Ticket" and stern looking law enforcement officers staring out.
The coordination efforts for the state's seat belt safety campaigns occur out of her office. Volunteers for more than 100 sites throughout the state are trained on the correct way to install child safety seats.
Down the hall is Dan Schulte's office. He supervises annual seat belt surveys. The numbers help rank where Kansas stacks up nationally (according to the last survey its 47th) in seat belt usage.
Beale said the leap from treating people for drug and alcohol addiction to convincing them to wear a seat belt isn't really much of a stretch. From sex offenders to vehicle safety, he said, DCCCA is in the business of behavioral health.
"Everything we do is to change people's behavior - whether it is stop drinking or taking better care of your child," Beale said.
Treating sex offenders
DCCCA got involved in the prison system when the Department of Corrections started handing pieces of its responsibilities over to the private sector. Late in 1981, DCCCA began offering alcohol and drug treatment programs at correctional facilities.
At one time, DCCCA was the sole agency in the state treating prisoners, parolees and people on probation for alcohol and drug addiction.
DCCCA lost the contract when it was underbid by another Kansas program, Beale said. But the nonprofit still is the only state-provider for treating sex offenders inside the prison and once they are paroled.
In 1991, DCCCA's faith in the 12-step program prompted it to offer treatment for sex offenders.
"It was the same type of staff, the same type of philosophy," Beale said.
The treatment has since changed, but the contract has remained.
This summer, DCCCA entered into a five-year contract. The state will pay the organization between $2 million to $3 million a year for its services.
Fostering family programs
Perhaps the most significant shift occurred in the mid-1990s, when Kansas became the first state to privatize much of its child welfare program.
After the sudden - and controversial - decision, DCCCA was among the organizations to offer bids.
Its first contract was under the family preservation program, which operates on the philosophy of keeping children with parents or relatives as often as possible.
Beale describes it as "good, old-fashioned social work" - replacing flat tires for a mom who needs a car to go to work, hiring crews to clean up a dirty house and treating parents addicted to alcohol and drugs.
DCCCA has since expanded its family preservation programs to include finding foster parents and facilitating adoptions. Now, children who enter the system under DCCCA's oversight won't leave the agency until they find a home.
Lieberman said when the state decided to privatized its child welfare program, organizations weren't given much time to adapt. But DCCCA did adapt.
"They were lucky. They were in a position to diversify and grow and had some smart visionary people right there at the moment they needed them," Lieberman said.
For the past fiscal year, the state paid DCCCA around $5 million for its family preservation program, the Kansas Department of Social and Rehabilitation Services said. For its foster care program, DCCCA received $10.2 million.
Mark Ezell, a professor of social welfare at Kansas University, said not enough research has been done to determine if handing a good portion of child welfare programs over to the private sector - such as DCCCA - has been successful.
"I don't know. And, that, of course, as someone who cares about this stuff, makes me sad," Ezell said.
According to Gavin Young, who is a spokesman for the Kansas Department of Administration, every state contract has performance requirements that vendors need to meet. And, if the state agency does not like the bids it receives, it will put out another request for proposals.
Young could not comment specifically on whether the state audited any of DCCCA's contracts, and calls to different agencies were not immediately returned.
Young said preference isn't given to bidders who already hold the contract and price isn't always the determining factor.
"The state statute doesn't require the lowest bid, it requires the most qualified bid," he said.
Treating addiction
DCCCA has four residential treatment centers for women in the state, including one in Lawrence, that provide a place for mothers to bring their children as they recover.
DCCCA also has an outpatient treatment center in Lawrence. And, it is among the agencies in town that do the alcohol evaluations and education classes deemed necessary for those who are arrested for drunken driving or drinking under age.
But drug and alcohol treatment is where the organization is seeing the least financial stability. A change in the way Medicaid pays for services means the nonprofit is losing thousands of dollars each month, Beale said, and the organization could have to look at cutting programs.
Money matters
Georgeson attributes much of the nonprofit's success to Beale, who has been at the helm for the past 30 years. According to a 2005 tax statement, Beale was paid just under $222,900 a year and received another $12,900 in benefits.
Beale said his salary is in the range of what other nonprofit executive directors with similar budgets are paid.
The nonprofit has also built up a $10 million reserve, which Beale and Georgeson said is on hand as a safety net in case contracts fall through.
For future growth, the organization invests in real estate - including office property in Kansas City and a ranch in southern Colorado for retreats, Georgeson said.
To keep its ear close to legislative action and to request changes to contracts, the nonprofit hires a lobbyist, Georgeson said. The 2005 tax statement listed the organization as having spent $22,000 on lobbying that year.
Not everything the nonprofit has done has worked. Georgeson chuckles at halfway homes that were flops and said out-of-state programs shrank because of political reasons.
On the other hand, the agency has been able to merge with other nonprofits, keeping programs and residential homes running through economies of scale.
But Georgeson said the organization from the beginning wanted to be in programs that would be successful.
"We follow the funding," he said.
Copyright 2018 The Lawrence Journal-World. All rights reserved. This material may not be published, broadcast, rewritten or redistributed. We strive to uphold our values for every story published.