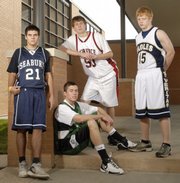 Change can be a good thing.
For Lawrence High's boys basketball team, change really means only uncertainty.
The Lions will open tonight having lost six seniors from last year's 15-7 squad, and coach Chris Davis has a number of questions to answer.
"We were a big, strong, physical team last year," Davis said. "It's pretty much a big changeover for us. It's kind of one of those things where you look under the hood and start to tinker a little bit and see what you've got."
To begin the process, the Lions will look to 6-foot-7 senior John Schneider.
Davis likes Schneider's toughness and the completeness of his game. Also returning is senior guard Preston Scheibler, who logged varsity minutes a last year, along with fellow seniors James Easter and Baba Dialo to try and fill the leadership void.
Another key component is junior Dorian Green, who made his varsity debut at point guard during the Lions' first game against Free State last year and immediately helped lift the Lions offensively.
"Two of the positions you look for are post and point guard," Davis said. "And Dorian had a great season last year. He came in and really gave us a spark, and I'm looking forward to watching him this year."
Lance Kilburn and Bobby Davis will round out a roster that will be interesting to watch as the season progresses.
"This is such a new group that I just don't know how it will go in the beginning," Davis said. "But the guys have real good chemistry, and I do think we'll get better as the year goes on."
Free State Firebirds
Across town, Free State coach Chuck Law lost four seniors from last year's third-place Class 6A state team.
The Firebirds return seniors Weston Wiebe and Chris Wilson, both of whom routinely scored in double figures last year. Junior Marcus Spates and senior Craig Rosenstengle both logged varsity minutes last year.
Seniors Austin Jacobsen and Marcus Holman will move up from the junior varsity along with junior Chase Hoag.
"We're hoping some of those guys can emerge as contributors," Law said. "For some of them it won't really be a transition from JV to varsity, because we really haven't changed a whole lot of what we're doing.
"For the guys that are coming up from the sophomore team and junior-high level things might be a little bit different. There are so many things that we'll be throwing them that may be new. In some of those cases those kids will be thrown to the wolves, so to speak. There may be some times when we have to throw some guys in there that don't have a lot of game experience."
Veritas Christian Eagles
Veritas Christian finished with a 5-20 record a year ago, yet coach Doug Bennett saw enough in the second half of the season to be optimistic.
The Eagles lose four seniors, including leading scorer Micah Barkley, but Veritas returns a nice mix of seniors and underclassmen.
"Last year was a major rebuilding year," Bennett said, "so we didn't have a lot of experience. But we finished pretty strong last year and it's nice to come into this year with some experience and some momentum."
The Eagles have four seniors, including the team's second-leading scorer from a year ago in Michael Kay. The others are Stephen May, Tyler Williams and Isaiah Dover. Ethan Kay and twins Nate and Ethan Scott, all freshmen, could have an impact.
Seabury Academy Seahawks
Seabury Academy will look to improve on last year's 4-13 record. The Seahawks finished on a bit of an uptick last year by taking fifth-place in the Class 1A regional. But that momentum will be tempered by the loss of seniors Max Cannon and Scotty King.
Second-year coach Matthew Downing Jr. will rely on returning varsity players Bill Gibbs, Karel Hill and Gus Wigen-Toccilino to build on last year's late-season success. Freshmen Skylar Malone and Reed Grabill likely will see a good chunk of varsity minutes.
"We pressed a lot last year," Downing said. "The lack of experience may force us to slow things on the defensive end."
Copyright 2018 The Lawrence Journal-World. All rights reserved. This material may not be published, broadcast, rewritten or redistributed. We strive to uphold our values for every story published.