Former Massachusetts governor and one-time Democratic presidential candidate Michael Dukakis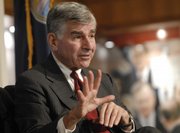 On the street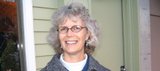 Dukakis. I don't always vote Democrat, but I thought he was more in line with what I wanted to see put forth on the agenda for the country.
At 74, Michael Dukakis, the 1988 Democratic presidential nominee and former governor of Massachusetts, has gleaned countless political and life lessons.
Dukakis shared some of those insights with a crowd of about 400 people Thursday at the Dole Institute of Politics.
"He's a really astute observer of the current political scene and in political history," said Jonathan Earle, interim director of the Dole Institute. "He's just a very nice and competent guy. Now I'm not saying that's all you want in a president, but as far as sheer competence and intelligence I haven't seen his equal in a long time."
Barbara Ballard, Dole Institute associate director and a Democrat in the Kansas House of Representatives, interviewed Dukakis. She invited him to speak about his political experience, things he learned after losing the 1988 election and the current election process.
When Ballard asked if he was ever afraid of the possibility of failure, Dukakis replied: "I'm responsible for the current mess. If I had beat the old man, you never would've heard of the kid. I feel that personally every day."
He said his two most serious mistakes in the 1988 presidential campaign were not responding to George H. W. Bush's attacks and doing away with grass-roots campaigning.
When Earle was a 20-year-old college student at Columbia University in New York, he said he worked on Dukakis' campaign.
"That's an election where dirty tricks were used in a totally new extent in the campaign cycle," he said.
What Dukakis said he would do differently now is to expect and prepare for an attack, without "getting down in the gutter with the other guy."
Second, he said coalition building is essential to reaching solutions and common goals.
"In this day and age, if you want to get things done you've got to build coalitions," he said. "You have to bring people in and make them part of the solution ... people who can't stand each other's guts but who, thanks to your leadership, are in a position to come together and solve problems."
Dukakis suggested one possible solution to a presidential primary system he described as "daffy."
His solution came down to this: Provide more time for voters to get to know the candidates.
"We're nominating two people, one of whom is going to be the most important political leader in the world, folks, and we've got this daffy nominating process where states are leap-frogging states."
He said he favors a system that requires a series of regional primaries in the six regions of the country, the order of which would be chosen at random every year.
"If you want to retain this kind of Iowa, New Hampshire historical thing, that's OK, but do that late January, early February, and then have a regional primary every other week for three months."
In that process, states would have a fair rotation and the candidates would have adequate time to prepare for their campaign and could do it in the same time zone, he said.
"Believe me, that's kind of important," Dukakis said. "Try flying back and forth from New Jersey to California four, five times, see what that does to your time clock."
Dukakis said there are numerous possibilities for change but it needs to happen soon.
"It's hard to believe that it was 20 years ago that he ran for president," said Ben Eggleston, a Kansas University philosophy professor. "I'm thrilled that he's doing great I just wish he could have done some of his great work in the White House."
Copyright 2018 The Lawrence Journal-World. All rights reserved. This material may not be published, broadcast, rewritten or redistributed. We strive to uphold our values for every story published.