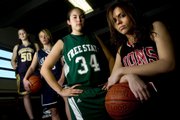 Heading into the first week of practice for the 2007-2008 season, Free State High girls basketball coach Bryan Duncan quickly realized he would have a fight on his hands.
"We have about seven players fighting for starting spots this year," Duncan said. "We have some experience and some good athletes coming in."
Free State returns several key players from last season, when the Firebirds took third place at state, and will add a number of new faces to round out the starting lineup.
Senior Sarah Craft, who was instrumental in the team's run at state, returns to the wing position, while the team's leader in rebounds, junior Taylor Manning, slides back into the post position. Junior Maggie Hull, who logged significant varsity minutes as a reserve guard, also will compete for a starting position.
Adding to the team's depth are junior Ashleigh Allam, who moved from Perry, and sophomores Chantay Caron, an Ottawa transfer, and Ashli Hill, a 6-foot-5 standout at Southwest Junior High a season ago. Juniors Lexi Smith, Rosie Hull, senior Chelsea Morgan and sophomore Wren Wiebe will round out the roster.
The combination of experience and height, along with the heated competition for starting spots, is something Duncan hopes will translate into a steady offensive team in the coming weeks.
"I think we'll be balanced," Duncan said. "We'd love it if we had seven or eight girls that could average eight to 10 points a game."
The Firebirds will tip off the season Saturday at Maize High.
Lawrence High Lions
Also stacked with talent and experience, Lawrence High looks to improve on last year's 14-8 record and make another push toward a state berth. The Lions lost four seniors from last season's team but replace them with three new players who will step into leadership roles.
Senior Danielle Bird - the team's second-leading scorer - returns, along with shooter Lindsey Murray and post player Cassi Moszeter.
The Lions' junior class consists of two of the team's top three scorers from a year ago. Taylor Bird, an All-Sunflower League veteran, and Tania Jackson, who was in the Sunflower league's top-five in rebounding, return to bolster the LHS roster.
The Lions also welcome a sophomore class that includes Southwest Junior High standouts Cassie Potter, an impact point guard, and 5-foot-9 Jasmyn Turner, who gives the Lions a forward with slashing ability. Sophomore Haley Parker, another strong option at point guard, and 6-foot-2 Shelby Miller add even more depth to a talented sophomore class.
"That's probably the best class I've seen come through since I've been here," LHS coach Kristin Mallory said. "They have strong basketball knowledge, they understand the game so well, and they've played throughout the summer. And most importantly, they're basketball kids. They have other sports interests, but they love to play basketball."
LHS will get its season under way Friday night at Washburn Rural High.
Seabury Academy Seahawks
Seabury Academy coach Nick Taylor returns only two players from last year's team and leads a team devoid of seniors.
Junior Bria Phipps carried a large chunk of minutes and averaged 10 points per game for Seabury last season. Arielle Spiridigliozzi, whose time was limited by injuries, joins Phipps as the only returning player from last year's team. That leaves Taylor's eight-player squad with six newcomers.
"We're going to lean a lot on Bria's leadership," Taylor said. "I think she can contribute a lot as far as knowing what's going on and getting the younger players up to speed on what's going on. And because of that we'll be better for it."
Despite taking the floor with a young group, the Seahawks hope to improve on last year's 6-10 record. But Taylor knows this could be a transition year.
"The emphasis for us is going to be on rebuilding," he said. "We look to improve on some of the things we've done, get some momentum going, and I think we'll be a better team."
Veritas Christian Eagles
Veritas Christian will look to the leadership of returning starters Kristie Tiegreen, Taelyr Shelton and Marteka Carlton to improve on a 9-14 record. The Eagles will put an experienced team on the court, as six of the squad's nine players are returning seniors. The team also can begin to rely on a relatively new element to its game: speed.
"We've kind of had that come along year-by-year," Veritas coach Kevin Shelton said. "But this year we have a good group, especially our young players, who are quick, and that's something I think we can build on."
Copyright 2018 The Lawrence Journal-World. All rights reserved. This material may not be published, broadcast, rewritten or redistributed. We strive to uphold our values for every story published.