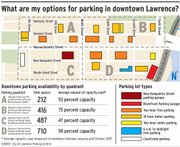 -->
Related document

Parking Lot Capacity Report ( .PDF )
On the street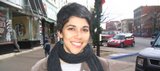 Yeah, sometimes. Usually when I'm going to the Bourgeois Pig and there's not a spot out in front.
Parking in downtown Lawrence is looking up.
No, check that. Parkers in downtown Lawrence should be looking up. At least that's the message of a new city study.
A report by city staff members has found that parking can be found anytime day or night in downtown, if motorists are willing to look up - as in up to the third floor of the city's parking garage at Ninth and New Hampshire streets.
Surveys done by city parking attendants from January through October found that the roof of the parking garage averaged more than a 95 percent vacancy rate - by far the least used parking lot in downtown.
"If people would just go the extra block to New Hampshire, I think they would be surprised at how much parking they would find," said Jane Pennington, director of Downtown Lawrence Inc.
City leaders have multiple reasons to spur new activity around the garage. The approximately 500-space garage was built seven years ago as part of a plan to redevelop much of the 900 block of New Hampshire Street. Much of the private redevelopment has not occurred, and as a result the city has not collected the amount of new taxes it anticipated to help pay for the $8 million garage.
Report conclusions
The report actually found pockets of available parking throughout downtown, but confirmed what many motorists already had surmised: there are more empty parking spaces south of Ninth Street than there are north of Ninth Street.
The report - which didn't measure the availability of parking on Massachusetts street - reached several conclusions:
¢ Out of the 14 public downtown parking lots north of Ninth Street, six of them were regularly at 80 percent capacity or greater during the weekday. The number dropped to five lots on Saturdays.
¢ Out of the 10 lots south of Ninth Street (counting each of the four levels of the parking garage) only one lot was regularly at 80 percent capacity or greater. That was true on weekdays and Saturdays.
¢ Parking lots Nos. 12 and 14 - both two-hour free lots on the east side of Vermont Street across from the library - are good bets to be near capacity at any time of day or evening. They both averaged 80 percent to 100 percent capacity.
¢ Parking lots Nos. 2 and 4 - the two-hour parking lots on the east side of New Hampshire Street in the 700 and 800 blocks - average 75 percent to 100 percent capacity in the afternoons and evenings.
¢ Parking lot No. 5 - just southeast of Ninth and Vermont streets - averages an 80 percent to 90 percent capacity during all times of the day.
City leaders were accentuating the positive findings of the report.
"What it shows is that there are available spaces throughout the downtown, but there are some areas greater than others," City Manager David Corliss said.
Untapped parking
The garage near the southwest corner of Ninth and New Hampshire streets may be the biggest example of untapped parking potential. In addition to the rooftop parking of the garage being widely unused, the report found the other three levels of the garage generally have spaces available. The two-hour free spaces on the ground floor level generally are at 50 percent to 70 percent capacity. There is a fee for parking in the upper levels.
The longer term spaces on the basement and second level of the garage generally are at 20 percent to 50 percent capacity on Saturdays. During the weekday, that rises to 70 percent to 75 percent, although it falls off to about 20 percent during the evening hours.
Downtown leaders said they would like the city to look at ways to better utilize the garage.
"I think we might get more bang for our buck from that garage if we could figure out some sort of incentive for people who work downtown to park there," Pennington said.
She said a parking permit system for downtown employees might be in order. She said the city may want to consider allowing downtown employees with the proper permits to park on the top floor of the garage for free.
Educating the public about the convenience of the garage also is needed, she said. Pennington said many residents may not realize that several businesses on Massachusetts Street have back doors adjacent to the garage. Shoppers also may not realize how centrally located the garage is.
"When people come to downtown they have an expectation of parking 40 to 50 feet of the door they are heading to," Pennington said. "But if you look at Wal-Mart and Target parking lots, there aren't very many times when you can park that close to their front doors."
Corliss said he's in favor of some sort of education campaign. He also said he wants to look into better signs, perhaps electronic ones that would notify motorists of how many spots are available in particular lots.
But Corliss said he first wants to hear ideas from downtown merchants. He said he plans to meet with them following the holiday shopping season. He also said he's directing the city's parking staff to continue collecting the data for 2008.
Copyright 2018 The Lawrence Journal-World. All rights reserved. This material may not be published, broadcast, rewritten or redistributed. We strive to uphold our values for every story published.