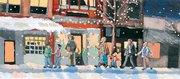 Holiday music events, gift ideas, activities for kids, food, decor & much more!
The 15th annual Lawrence Old-Fashioned Christmas Parade is set for 11 a.m. Saturday in downtown Lawrence.
More than 300 horses are expected to follow the route, which will begin at Seventh and Massachusetts streets and continue along Massachusetts until the parade route intersects 12th Street.
The parade will feature a variety of horses and wagons, stagecoaches, carts and sleighs.
A six-horse hitch of the Express Personnel Clydesdales will lead the way.
The parade is presented by the Lawrence Old-Fashioned Christmas Parade LLC.
CornerBank is the company's managing partner.
Other members are Downtown Lawrence Inc., Lawrence Chamber of Commerce, Zarco 66, Eldridge Hotel, The World Company, Kennedy Glass Inc., Bradley Farms and Schumm Foods.
Copyright 2018 The Lawrence Journal-World. All rights reserved. This material may not be published, broadcast, rewritten or redistributed. We strive to uphold our values for every story published.