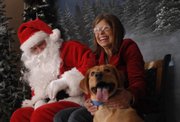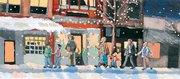 Holiday music events, gift ideas, activities for kids, food, decor & much more!
Santa Claus is well-known for his care of four-legged creatures. After all, eight tiny reindeer must be looked after carefully.
On Sunday, Santa descended upon the Lawrence Humane Society's Charles Ise Memorial Animal Shelter, 1805 E. 19th St., for its annual Santa Paws event, where pet owners brought their furry friends to the shelter for a holiday photo shoot. The event continues next Sunday, as well.
Santa's gloved hands were full with rambunctious pets who scurried about as he tried his best to clutch them close to his body for a commemorative photograph.
It's no matter, said St. Nick.
"I'm an animal lover. I care for all the people who work here," he said, adding that he has adopted several animals from the shelter to give to friends. "It's a way to help the organization, so I donate my time and help out."
Midge Grinstead, the shelter's director, said Santa Paws started about a decade ago as a fundraiser.
"We always run out of money this time of year because we expended it all during the summer. So we needed a fundraiser and this seemed like a really good idea," she said. She expected the event would raise $4,000 to $5,000 for the Humane Society.
Grinstead estimated 50 to 60 dogs and cats had their pictures taken with Santa on Sunday. She said she expected 100 to 120 pets to participate next Sunday, for the final Santa Paws photo shoot.
For $10, pet owners receive two 4-by-6-inch glossy prints and the negatives, Grinstead said.
Though Santa was busy exclusively with dogs and cats Sunday, he said he has posed with all sorts of animals, including roosters, a pot-bellied pig and tarantulas in years past.
"People have all sorts of fun animals," Santa said. "A lot them come dressed to the nines."
Some pet owners even wear outfits to match their pets, then take their places around Santa for a photo.
Sarah Hinrichsen did not dress her 3-month-old kittens, Siegfried and Roy, in holiday garb, but said they would be a visible part of her holiday correspondence.
"I got some Christmas cards that have cats on them, so I thought I'd put their pictures in and send them to all my friends," she said, after the cats' photo shoot, where they tried to burrow into Santa's beard.
"It's a great way to commemorate your pet," Grinstead said. "It's a great way to commemorate year by year your pet and your family. It's fun."
Santa Paws continues next Sunday, Dec. 2, from 11 a.m. to 4 p.m., and the Humane Society is running a similar event at Petco, 3115 Iowa, on Saturday, Dec. 8. Owners can choose to have their pets photographed with Santa Claus or the Grinch.
Copyright 2018 The Lawrence Journal-World. All rights reserved. This material may not be published, broadcast, rewritten or redistributed. We strive to uphold our values for every story published.