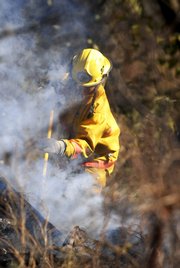 After Douglas County announced a five-day fire ban Wednesday, local fire departments responded Friday to a fire east of Lawrence in the Palmyra Township.
Fire departments, including Wellsville Township, Johnson County District 1 and the Douglas County Sheriff's Office, responded to a call about noon regarding a fire that started in grass but moved to two small wooden structures.
"Seeing as dry as the brush is and with the wind, it caught a structure on fire and another nearby," said Chief Randy DeMersseman of the Palmyra Township Fire Department.
He issued a citation to a man for violating the fire ban. DeMersseman said the man was a relative of the property owner, but he wouldn't release a name.
"He said he was testing to see how dry the grass was," DeMersseman said. "It was negligence on the individual's part. It's not a wise thing to do in these conditions."
County commissioners imposed restrictions on outdoor burning in Douglas County because of the lack of rain and low moisture content in the soil.
Dry weather conditions will continue to pose a threat in the next few days, Matt Elwell, 6News meteorologist, said.
"We have extremely dry air and pretty extreme winds," he said. "The potential for fire, if there is a fire, to go out of control is pretty high."
He said the National Weather Service issued a hazardous weather outlook Friday afternoon.
Elwell said to expect temperatures in the 60s for next three days and some rain on Tuesday.
Burning prohibited
The burn ban is in effect for unincorporated areas of Douglas County through Monday. At that time, the ban either will be lifted or extended.
The ban prohibits:
¢ Open fires or campfires, except in permanent stoves, fireplaces or in barbecue grills in developed recreational sites or on residential homesites.
¢ Burning of all fence rows, fields, wildlands, ravines, trash, debris or other areas or materials.
¢ Careless use and disposal of smoking materials. All smoldering remains must be discarded in fire-proof containers and in a way that reduces potential for fires.
Copyright 2018 The Lawrence Journal-World. All rights reserved. This material may not be published, broadcast, rewritten or redistributed. We strive to uphold our values for every story published.