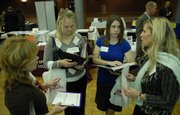 Kori Green can see the demand for certain teachers in Kansas - science, math, special education, English as a second language.
"All you have to do is walk up and say, 'I'm biology,' and it's like, 'Here you go,'" said the Kansas University student who is in her final year with the School of Education.
Green, who is looking for a high school job in social studies, said that was a joke among her friends. Green was among about 150 students on Wednesday trying to impress school district representatives from Kansas, Missouri and other states at the eighth annual Education Career Fair in the Kansas Union Ballroom.
With state leaders warning of a teacher shortage in certain fields - largely because baby boomers are retiring - school recruiters acknowledged they had prospects in mind who could teach certain subjects. The Lawrence district, for example, was advertising special education and elementary teaching jobs.
"We're really casting the net and looking for anybody that is interested in coming to Lawrence and has these credentials that we would like them to have," said David Cunningham, the Lawrence school district's division director for human resources of certified personnel.
The district was so short of qualified special education teaching applicants this fall that district officials filled some jobs with long-term substitutes. But the district wants to find teachers to permanently take over those jobs, Cunningham said.
He expected Lawrence to have about 100 teacher openings at the end of this year, which meant Wednesday's career fair was a crucial opportunity to meet prospects.
KU offers a second education career fair in the fall, when most districts conduct interviews. Wednesday's event was more about making connections.
School districts from all over were on the floor to try sell their communities - urban or rural, large or small - and coax the KU students into thinking about teaching jobs.
Chad Krug, assistant principal at the high school and middle school in Holcomb, said members of the "seasoned science staff" in his southwest Kansas district will be retiring in the next five to 10 years.
"Now is the time to see if we can get some new talent and more interest in that area," he said.
Often, districts in western Kansas are successful in attracting teachers who have a tie to the area or who enjoy working and living in small towns, Krug said.
Other school districts came to recruit from farther away. Vancouver, Wash., public schools brought a contingent to KU for a third consecutive year.
Leland Goeke, Vancouver's associate superintendent for human resources and management, said the district has hired about a dozen KU graduates. He said he researches universities that have a strong curriculum and churn out motivated teachers.
"The teachers we've hired here have kind of borne that out, so we're going to keep coming back," Goeke said.
Copyright 2018 The Lawrence Journal-World. All rights reserved. This material may not be published, broadcast, rewritten or redistributed. We strive to uphold our values for every story published.