Photo Gallery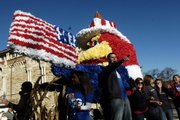 KU Homecoming 2007
Kansas University's homecoming week culminated Saturday with a spirited gameday atmosphere and a lopsided victory against the Nebraska Cornhuskers.
Before the game, hundreds of people lined Jayhawk Boulevard, the campus' main street, in anticipation of a colorful parade, which included Gov. Kathleen Sebelius, who served as grand marshal. Dozens of vehicles and floats followed the KU Marching Band, which blared out the school's fight song amid cheering and clapping spectators of all ages. Many more fans populated the hill behind Memorial Stadium, mingling with friends or simply enjoying the party, which preceded KU's 76-39 victory.
Student groups, riding atop elaborate floats made of tissue paper and chicken wire, celebrated this year's homecoming theme, Jayhawk Nation. Floats featured themes trumpeting KU's nationwide network of alumni as well as touting the football team's undefeated record and No. 8 ranking in national polls.
The parade also recognized Rich and Judy Billings, a pair of 1957 graduates who live in Lakewood, Colo., and have returned to every homecoming since they graduated. They were honored with the inaugural Spirit of 1912 award, noting their school spirit and dedication to furthering the success of KU students, during a ceremony Friday evening. The award refers to the first KU homecoming, which occurred in 1912.
Butch Shaffer, a 1966 KU graduate from Chillicothe, Mo., said he attends every KU football game, but said that homecoming was a special occasion. "It's fun to meet old friends. You know, just get together," said Shaffer, who was with his wife, Judy. "It's always fun to be here. It brings back a lot of memories."
Alison Gurwin, a Chicago resident who earned a bachelor's degree from KU in 2005 and a master's degree in 2007, was wistful upon her return to Lawrence. "It's really cool to be an alum," she said. However, "it makes me miss being a student."
The homecoming festivities impressed Gardner resident Mark Baldwin, who sat on the curb during the parade eating pancakes served as part of the university's homecoming celebration, with his wife, Peyton, a KU senior.
"I'm used to small high school homecomings," he said. "Anybody and everybody shows up to be a part" of KU's homecoming.
Even Nebraska fans, deep in the heart of enemy territory, enjoyed the pre-game party on the hill. Mike Carlson, of Omaha, drove three hours to cheer on the Cornhuskers. As he sought refuge with other Nebraska fans amid a sea of blue, he said he saw several hundred NU fans around Lawrence, though a shouting bystander disagreed, suggesting Husker supporters were "a thousand strong!"
Carlson said he would root hard for Nebraska, but ultimately predicted KU would win, 34-17. Unfortunately for Nebraska, that was wishful thinking.
Former Jayhawk quarterback Fred Thomas, a Lawrence resident and a member of the 1992 Aloha Bowl team, said he hoped for a decisive victory against KU's Big 12 rival, which won 36 straight games between the two schools from 1968 to 2004.
"We've had this on our calendar for a while," he said, relishing the chance to defeat a struggling Nebraska team.
Shaffer said this year's homecoming was different because it featured a nationally ranked Jayhawk squad. He said that fans always root for success next year.
"I think next year's here."
Copyright 2018 The Lawrence Journal-World. All rights reserved. This material may not be published, broadcast, rewritten or redistributed. We strive to uphold our values for every story published.