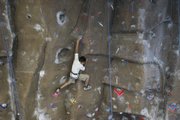 Wichita — The ballgame lasted until dark or dinner, whichever came first.
Or maybe it was the tree-climbing escapade, the bike-riding expedition or the driveway basketball game.
Playing outside is one of those sepia-toned memories adults invoke as a symbol of childhood - one that's increasingly rare.
"Children are living very sedentary lifestyles. When they leave school, they go home to TV, computers and video games. It's not safe to play outside like it used to be," said Kim Morrissey, a local physical-education teacher and an instructor at Wichita State University.
Faced with a looming obesity crisis, health experts and educators are turning to middle school as a place for prevention.
'Frightening' statistics
Kansas doesn't require PE in seventh or eighth grade, but state Health Department data shows that's when kids are at risk for becoming overweight, probably because they're less active and more likely to make poor food choices.
"The statistics are frightening," Marcia Nielsen, executive director of the Kansas Health Policy Authority, told Topeka lawmakers recently at a planning session.
Since 1980, the percentage of overweight young has more than tripled in the United States.
In Kansas, 43 percent of middle and high schoolers are not getting recommended amounts of exercise, Nielsen said.
Among other reforms, her office recommends requiring 100 to 150 minutes of physical education a week in elementary and middle schools.
On a recent school day, about 30 sixth-graders sat on the gym floor at Allison Traditional Magnet Middle School while P.E. teachers Melanie Moore and Dave Monger explained the rules of Eclipse Ball, a hybrid of volleyball and racquetball designed to improve eye-hand coordination.
Later, the kids swung rackets and dove for lobs, sending an oversize ball bobbling over the net.
Monger and Moore stood back, shouting an occasional "nice try" or "good job."
Asked if they worried that some students could develop lifelong problems, the teachers nodded.
Monger pointed to two heavyset boys; Moore indicated a tall, thin girl.
She's not fat, but she's weak. If she continues to eat the refined sugar common in young people's diets, Moore said, "what it's doing inside in 20 years will appear on the outside."
These kids are evidence of the need for daily P.E., Monger added.
"It doesn't matter how well our kids do on standardized tests if they die at 40 from a heart attack," he said.
P.E. programs the answer?
Middle school P.E. programs vary widely.
When she travels to observe student teachers, Fort Hays State University instructor Joyce Ellis sees some schools offering six weeks.
Others might have it for one semester, spread over a year, or combined with health classes. "Some schools use it for sports practice," Ellis said at the Topeka planning session.
Although health advocates support a middle-school P.E. requirement, others have concerns about such legislation.
Mark Tallman of the Kansas Association of School Boards questioned how schools would pay for the added staff or space such a move might require.
The State Board of Education might be able to raise awareness of the issue, but course requirements are best handled locally, said board member Carol Rupe of Wichita.
"I hope the Legislature is not so naive to think that if they mandate a certain number of minutes of P.E. in schools or a certain type of school lunches that it will solve the problem," she said. After seeing several obesity-related proposals stall in last year's legislative session, state Rep. Pat Colloton, R-Leawood, said the key is to start small.
Colloton plans to introduce a bill that would provide $500,000 in grants for middle schools to strengthen P.E. programs.
Although she initially supported legislation for a required number of P.E. minutes, Colloton said she probably won't draft such a bill.
In Wichita schools, students are required to take the equivalent of one semester of P.E., total, in three years of middle school. After that, it's an elective.
He's a cross-country runner and wants to stay in shape after the season ends, Ryan said. His mother, Jane, doesn't worry about her four sons' weight.
But as a former teacher, she's concerned that kids don't get enough daily exercise.
As schools strive to improve in math and reading under federal No Child Left Behind guidelines, they've cut back on recess, she said. "I think that's a mistake," she said. "Kids need to get out and run."
Rock-climbing kids
Knowing the mental and physical benefits of exercise, Moore and other teachers are finding creative ways to help kids fall in love with movement.
At Allison, they're using federal grant money to buy fun, nontraditonal equipment - like the Eclipse Ball set - and to organize a monthly activity outside school hours.
In September, they took students geocaching - a high-tech version of a scavenger hunt.
This month, it was indoor rock climbing. Next month they plan a tournament of the Dance Dance Revolution video game.
As she walked down the hall after class, Moore mulled over a news item she'd heard recently: This generation of young people may be the first in the modern era to have a shorter life expectancy than its parents.
Sadly, there's no single illness behind the statistics. "It's their physical being and the choices they're making," she said.
Copyright 2018 The Associated Press. All rights reserved. This material may not be published, broadcast, rewritten or redistributed. We strive to uphold our values for every story published.