Related document

Phoenix Award Previous Winners ( .PDF )
Each year, the Lawrence Arts Commission chooses eight people who have made oustanding contributions to the local arts community to receive the Phoenix Award. This year's crop represents music, dance, visual art, administration, advocacy and volunteerism at their best.
The eight winners of the 12th annual Phoenix Awards, a project of the Lawrence Arts Commission, will be honored during a ceremony and reception at 2 p.m. today at the Lawrence Arts Center, 940 N.H. The event is free and open to the public.
The awards for this year's winners have been designed and created by Lawrence sculptor Catherine Hale Robins.
Janeal Krehbiel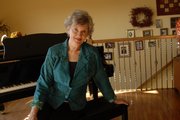 Choir conductor has developed hundreds of children's voices
Janeal Krehbiel ¢ Musical Arts
She retired from a 15-year career teaching choral music in Lawrence Public Schools two years ago, but Janeal Krehbiel isn't letting go of the Lawrence Children's Choir just yet.
"Every year I think, 'Should I be thinking about this being my swan song?' And then I think about some kind of music I've got to do or a trip I've got to take the kids on," she says. "I keep finding a way to do this one-more-year business."
The choir is her baby, after all. She moved to Lawrence with her husband after teaching choral music at Hesston High School for 10 years. She had written her master's thesis on the junior high voice, and she saw potential here for a children's choir.
She started one in 1991 with her sister, Marilyn Crabb Epp, who now serves as the group's accompanist.
"It has not been successful financially," says Krehbiel, 60. "But it has been successful in terms of the number of kids we've been able to teach and the quality of choirs we've been able to have."
The 80-member group of fifth- through ninth-graders rehearses once a week and gives two concerts a year. It has been invited to sing at the National Music Educators Association conference, the International Choral Festival and Carnegie Hall. It also has performed internationally in England and Germany and recorded five CDs.
Krehbiel has developed a reputation outside of the choir, as well, working as a clinician and festival director for children's choral groups in Kansas and across the country.
Susan Ralston, who nominated Krehbiel for the Phoenix Award, admires the conductor's knowledge of children's voices and choral literature.
"And then she just wants to make the children do their absolute best when it comes to making music," Ralston says. "She's just gifted in doing that."
- Mindie Paget
Ted Johnson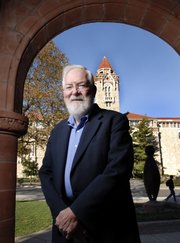 Professor known for cultivating people's curiosity about the arts
Ted Johnson ¢ Arts Advocate
In the classroom, Ted Johnson has been just as likely to be inspired by his students as to pass inspiration on to them.
"There have been so many interesting moments in teaching, so many breakthroughs," he says. "Sometimes they were so wonderful I had to have a cool-down walk on campus. I couldn't go back to my office."
Johnson was a Kansas University faculty member in French and humanities from 1968 to 2001.
His teaching style - which he likens to being a midwife for students' ideas - is well-known both among students and in the community. His annual Stop Day tour of campus draws dozens of people each year as he describes architecture at KU.
"Ted is immensely curious about the world and enjoys learning new ways of experiencing it," says his wife, Mary, who helped to nominate him for the Phoenix Award. "He finds the arts to be a wonderful vehicle for expressing and communicating our human experience."
Through the years, Johnson, 71, has served as an arts advocate through leading tours at the Spencer Museum of Art and Equinox tours of campus, organizing interdisciplinary courses such as "Paris" or "Light," and a seminar comparing Monet paintings with the Kansas River.
Even in retirement, he continues to teach a freshman honors tutorial class at KU, and he is working with the new 6 Gallery to create interdisciplinary arts events there.
Though his interests are varied, Johnson says the bottom line to all his arts-related activities comes down to people sharing their own ideas.
"Most people think you have to be able to profess," Johnson says of being a professor. "The trick is to get people to profess."
- Terry Rombeck
Vince Gnojek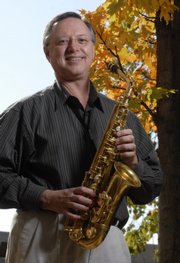 Professional saxophone player composes career as role model
Vince Gnojek ¢ Performing Arts
Vince Gnojek remembers exactly why he chose to play the saxophone at age 10.
"The main reason was it looked really complicated," he says. "And I knew it could play really loud. I had three sisters I wanted to drive crazy."
He had no idea that the saxophone would be a lifelong career for him and be his ticket to countries around the world.
"Vince Gnojek is a world-class saxophonist and educator who is one of a very few musicians equally at home with jazz and classical music," says Kip Haaheim, the Kansas University music professor who nominated Gnojek.
After teaching in public schools and at several Denver-area universities, Gnojek came to KU in 1988 and has been on the music faculty ever since. He now has 20 to 25 students in the saxophone studio each semester.
But he's also maintained a busy touring schedule. His credits include performances with the Kansas City Symphony, the then-Denver Symphony Orchestra, the Capital City Big Band, the Boulevard Big Band, the Denver Broncos Band and the Jimmy Dorsey Band.
Gnojek, 56, also has performed in numerous foreign countries, including China, Thailand, Estonia, Latvia and Costa Rica.
"I feel like I need to demonstrate what I'm asking (students) to do," Gnojek says. "If I'm not a role model, I'm not as effective as a teacher."
He says he decided he wanted to be a music educator when he was 12 years old. Now, he can't imagine doing it anywhere but at KU.
"I think the program here is really one of the stronger programs in the Midwest," Gnojek says. "I love teaching. I have the opportunity to work one-on-one with gifted and talented students day by day."
- Terry Rombeck
KT Walsh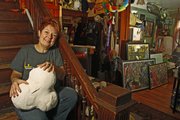 Energetic east Lawrence resident endorses art as a way of life
KT Walsh ¢ Visual Arts
Recently a woman mistook KT Walsh's home for something it's not.
She wandered in off the sidewalk, looked around at the paintings, parasols, antique signs, bicycle wheels, hats and scarves and asked, "What kind of store is this?"
Walsh laughs, but she seems to acknowledge that the curious stranger's assessment wasn't that far off.
She has surrounded herself with art and the trappings to make more of it. Found objects - socks, broken guitar necks, old dolls, plastic brake light covers - are sorted by color and waiting for Walsh to incorporate them into her next project.
"I like things a lot better if they've gotten beat up and used and faded and dirty and scruffy. That's a lot more interesting than shiny and new," she says. "Someone used it - maybe many people used it - and I'll use it, and then maybe it will go on again. So it's like you're just passing through, and so is it."
Walsh has become more than a passive force in the Lawrence art community. She was propelled into neighborhood activism a little more than 10 years ago when someone complained about her yard art. The city deemed the umbrellas in her trees a hazard to motorists, and it took a petition drive and uncomfortable trips to City Hall to preserve the display.
"That kind of flipped me from being super shy and not participating," says Walsh, 55.
Now she's everywhere, it seems. Many Lawrence parents know Walsh as the Silly Hat Lady. She sets up shop at events like the Kansas State Fiddling and Picking Championships at South Park and lets kids go wild making wearable art for their noggins. She played host to an art happening at her home this summer, and she recently showed her work in a Lawrence exhibition for "radical women."
She's not terribly concerned about making a living with her art. In fact, it doesn't take long chatting with Walsh on her front porch - surrounded by her zany creations - to realize that her life IS art.
And she'd love to help make your life that way, too.
"Her demeanor and energy encourage absolute abandon and creative freedom," says Tim vonHolten, who nominated Walsh for the Phoenix Award. "And she lives what she speaks."
- Mindie Paget
Joyce Schild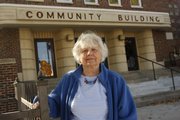 Painter's idea for art festival blossoms into 45-year tradition
Joyce Schild ¢ Arts Volunteer
When Joyce Schild and her husband moved to Lawrence in 1947, they bought an old stone house on New Hampshire Street. Schild decided it was so beautiful that she wanted to paint it.
"As I sat out in the yard, people would come up and talk to me again and again," says Schild, now 84. "I was impressed with how many people were really interested in doing something in art.
"One day I thought, 'Well, what about having an art show here in Lawrence?'"
Schild contacted the Parks and Recreation department and gathered enough interested artists to pack her house for an organizational meeting in late February 1962. The result was The Art Festival, open to all Douglas County artists 18 and older who paid 50 cents and joined the newly formed Lawrence Art Guild.
"It was real exciting and real interesting," Schild says. "Everybody loved it."
In its third year, the festival moved to South Park and became Art in the Park. Forty-five years later, the annual art fair is still going strong. Schild, who lives at Lawrence Presbyterian Manor with her husband, Alvin, makes it "if it's not real hot."
She has stayed involved in art through the years, serving in several Art Guild offices, creating illustrations for the book "Soil of our Souls," by Martha Parker and Betty Laird, teaching watercolor classes, donating work to the Douglas County AIDS Project's art auction and contributing silkscreen covers for her garden club's yearbooks.
"They are truly unique pieces of art, and I have kept most of them and have framed many of them for use in my home," says Mary Kate Ambler, who helped nominate Schild for the Phoenix Award.
Schild has slowed down in recent years, but she still keeps her paints handy.
"When these trees out here in front turn bright red," she says, "I'm going to be out there again."
- Mindie Paget
Linda Frost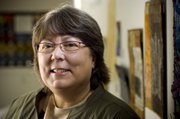 Textiles artist builds up public awareness of expanding art form
Linda Frost ¢ Arts Volunteer
Call it a sign of the times.
Linda Frost's grandmother made quilts from scraps of old clothing. Her creations ended up on beds or wrapped around cold bodies in drafty houses.
Frost, on the other hand, dyes, stamps and paints fabric - even runs it through a laser jet printer - before she stitches together quilts meant not as blankets, but as wall art.
"I really like traditional quilts. I like the history and all that's involved," Frost says. "But sometimes you feel like maybe you'd like to put a little more of your own self into the work."
In 2001, Frost helped found the Kansas Art Quilters, a group with members from more than a dozen states dedicated to promoting textile art in quilt form. Specifically, Frost has served as the organization's exhibition coordinator, curating 10 shows that have been displayed throughout Kansas and as far away as New York.
"We've got some really talented people in the Kansas Art Quilters," says Frost, 54. "I'm always really impressed with the work they put out, and I've always felt honored to be able to show it."
Frost, who is "usually sewing something every day," has shown her own work in juried exhibitions across the country, often receiving awards.
She also belongs to Kaw Valley Quilters. During her presidency, the group added night meetings to expand participation. She has been a representative for the Surface Design Association and Studio Art Quilts Associates, and for five years she coordinated a trip with about 40 local quilters to the American Quilter's Society's annual meeting in Paducah, Ky.
"It takes more than one person to make a group," says Ruth Dickinson, a co-founder of Kansas Art Quilters who helped nominate Frost. "But Linda Frost's hard work and dedication have transformed the Kansas Art Quilters from an idea into an active coalition of artists who rely on this association for educational opportunities and support."
- Mindie Paget
Barbara Wasson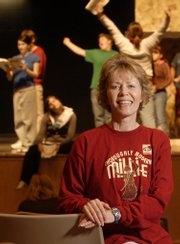 Choreographer helms musical theater's dance engine in city
Barb Wasson ¢ Exceptional Artistic Achievement
Barb Wasson wanted more than anything to be a ballerina.
She'd been taking dance classes since she was 3 years old, and then Tomi Wortham from the New York City Ballet moved to Lawrence and opened a studio.
Wortham pulled Wasson aside as a fourth-grader for a reality check.
"She looked at me and said, 'Barbara, you won't be a ballerina, but you'd be great in musical comedy,'" Wasson recalls. "I was very disappointed, but she was right. You needed only to look at me to know that I was not going to be a ballerina."
Wortham's assessment proved prophetic, and that brokenhearted little girl has grown up to be the go-to choreographer for musical productions in Lawrence.
She and her sister opened the Hillcrest School of Dance in Lawrence, where Wasson taught lessons while obtaining a theater degree at Kansas University and after returning from a brief stint of dance training in New York.
In 1978, she was recruited to choreograph "Brigadoon" at Lawrence High School. She was terrified.
"But I had such a good time," she says. "I love being with the students, and I loved the challenge of it."
Her first production for the Lawrence Community Theatre came in 1994. Back then, the theater staged just one musical a year; now it does three, and Wasson is the organization's designated dance guru. She plays the same role at Free State High School and LHS, where she also helps create dance routines for "Showtime," the school's annual musical revue.
"I never thought that I would be as busy as I am doing something that I love as much as I love choreography," says Wasson, now in her mid-50s. "I've sort of fallen into the honey pot."
Wasson also has set dances for Summer Youth Theatre shows and this year's production of "The Ballad of Black Jack," directed by Kansas University theater professor Jack Wright. He says Wasson has a gift for communicating with diverse casts.
"She has the rare ability to take complicated dance steps and shape them in such a way that she can take advantage of all levels of dance experience and thus make actors, singers and dancers look absolutely professional and polished," Wright says.
- Mindie Paget
Kathy Pryor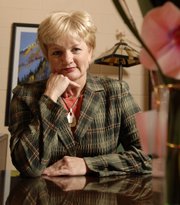 Theater director finds creative avenues to promote arts at KU
Kathy Pryor ¢ Arts Administrator
Among all the announced winners of the 2007 Phoenix Awards, Katherine Pryor might have been the most surprised.
To begin with, she's not an artist. Secondly, the arts administrator category for which she won debuted on this year's ballot without her knowledge.
"I fell in love with the arts just as a layperson," says Pryor, managing director of theater at Kansas University.
"I love being behind the scenes and problem solving, coaching people or watching people resolve to get their dreams come true."
The 50-year-old Pryor originally came to KU to earn her undergrad in business management. She first found employment as a part-time secretary with the theater department. After graduating, she was hired back as its business manager.
Pryor worked her way up the ladder, next as an assistant director, then an associate director. She has held her current title for the last two years. (She also is graduating from KU in May with a master's in public administration.)
"Kathy's creativity lies in her ability to find new ways to promote not only the University Theatre, but all the arts in Lawrence," says Charla Jenkins, theater department public relations director.
Among Pryor's extracurricular arts achievements: She received the Gold Medallion from the Kennedy Center American College Theatre Festival for her work supporting the event. And she recently served as chair of the Lawrence Arts Roundtable.
She is presently chairing the PIECE (Peer Involvement Encouraging Community Engagement) Project - a Leadership Lawrence program for ninth-graders.
At KU, she is now embroiled in coordinating Alums Come Home in conjunction with the 50th anniversary of Murphy Hall.
"One of the things I'm very grateful for is not just being in the arts, but being in the arts with college students," she says. "I adore theater students. They're passionate and creative, and their work ethic is amazing."
- Jon Niccum
Copyright 2017 The Lawrence Journal-World. All rights reserved. This material may not be published, broadcast, rewritten or redistributed. We strive to uphold our values for every story published.