One of the city's top surgeons is stepping down today after 20 years in Lawrence.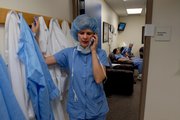 Marilee McGinness, of Lawrence Surgery Associates, will begin her new job Aug. 6 at Kansas University Medical Center as clinical assistant professor of breast surgery.
She said the decision to leave wasn't easy, but felt the new position would allow her to focus on breast care, which she now devotes about 80 percent of her time to.
It also will allow her to do some research and help train medical residents.
"It came down to the opportunity there," McGinness said. "To be able to expand the type of practice I have. To work with the breast radiologists there. To be able to be involved in research. ... To have some input in training. It was the attraction of that job, not that I was wanting or needing to leave Lawrence."
McGinness, 53, said it would be difficult saying goodbye to her colleagues and patients. She particularly will miss her business partner of 20 years, Dr. Mark Praeger, and Dr. Carol Moddrell, whom she described as a gifted breast pathologist at LMH. She expects the Breast Center, Oncology Center and surgery department to continue to flourish without her.
"I am just one component," she said. "We have top-notch oncologists here. My partners (Praeger and Dr. James Smith) are still going to be here. There are still going to be four surgeons here in town who are excellent surgeons and will continue doing top-notch breast care."
Although she is leaving many friends in Lawrence, she will be reuniting with others at KUMC, where she went through surgery residency.
She will be working with Dr. James H. Thomas, chief of surgery, who McGinness said was instrumental in her training, and Dr. Carol Connor, a breast surgeon with whom she went through training.
"I felt like it was a good match," she said of the new job. "And it ended up being something I just couldn't refuse."
She said money didn't play into her decision and noted that Gene Meyer, LMH president and chief executive officer, did offer her a position as breast surgeon with a salary to match, but she wasn't interested.
"I really like the idea of being able to concentrate on one thing and truly become an expert," McGinness said.
And McGinness said she wasn't concerned about the future of KUMC or its negotiations to possibly affiliate with St. Luke's Hospital in Kansas City, Mo.
"I questioned a lot of people there while I was interviewing," she said. "I am not sure that I know a whole lot more than I knew before. I felt like the breast cancer component, the cancer component, the breast center - all of those are very important to everyone there. And I felt like that was very well supported, top-notch and has an excellent reputation - something that I really want to be a part of."
Ardena Yakle, who was receiving treatments at LMH's Oncology Center on Thursday, said she hated to see McGinness leave.
"It will be a great loss," she said. "I've been so lucky to have had such a wonderful surgeon."
The same sentiments were shared by other LMH patients, staff members and the CEO.
"We are sorry to have Dr. McGinness leaving," Meyer said. "We appreciate the many fine things she has done for the hospital and her patients. We wish her much success."
Copyright 2018 The Lawrence Journal-World. All rights reserved. This material may not be published, broadcast, rewritten or redistributed. We strive to uphold our values for every story published.