Debbie Meyer's life had become an emotional yo-yo with too much downspin.
Two months earlier, on a Saturday morning, Dr. Marilee McGinness had driven from Lawrence to Meyer's home in Lenexa to personally deliver bad news. Meyer's breast biopsy, taken the night before in McGinness' office, was positive. She had cancer.
Theirs was more than a doctor-patient relationship. Meyer, 54, and the surgeon, 52, also were good friends.
"On Friday night, Marilee said she'd call after she got the pathologist's report ... and when my doorbell rang (Saturday) I knew there was something wrong," Meyer said quietly.
"We cried and hugged and tried to laugh once in a while, but ..." McGinness said, recalling the day she delivered the news.
The two friends had done the biopsy in McGinness' office after the nursing staff went home. Meyer had called to say she was running late and was canceling her appointment.
"I said I'll wait 'til you get here," the surgeon said.
Meyer held the "number" bottles, as McGinness calls them, while her friend the doctor did the procedure.
Turning Heads
Hear Dr. Marilee McGinness and Debbie Meyer review "Turning Heads, Portraits of Grace, Inspiration and Possibilities," a book containing portraits of women who have lost their hair because of breat cancer. See audio slideshow | See thumbnails
While McGinness ran the biopsy to Lawrence Memorial Hospital's pathology lab, Meyer sat on the paper-covered examination table, alone in the office.
She thought about her mother, who had gone through breast cancer, and she knew she was at risk.
Clumps of hair
Now, weeks later, having undergone three surgeries and three rounds of chemotherapy, Meyer was looking in her bathroom mirror, holding a handful of hair. It was coming out in clumps.
She'd been warned and knew chemotherapy was the culprit, the same chemotherapy she was counting on to save her life. But still ... .
She thought she had been taking her treatment ordeal pretty much in stride, but now she would be hairless. The world would know she was sick. That was too much.
A beautiful woman
Meyer was crying when she called her good friend and former neighbor Ginny Gzalaznik who suggested they meet in a shopping mall midway between their homes.
Photo Gallery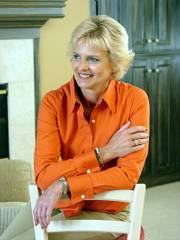 Meyer & McGinness
They sat talking in Meyer's car outside the Price Chopper.
Debbie, through tears, said: "It's falling out, it's falling out."
"I grabbed her and put my hand on her head and told Debbie she was beautiful, that she'd always be a beautiful woman ... 'Just look at you ...'" Gzalaznik said.
But when she pulled her hand away, it was full of Meyer's hair.
Both burst into tears, each trying to comfort the other.
"It was shocking to me, really, the emotion that came with the hair," Gzalaznik said.
The following afternoon she drove Meyer to her hair stylist to get a "very short do." This would keep the "fallout" to 1-inch pieces.
"Debbie was visibly nervous, more so than when I'd driven her to LMH for chemo or her bone scan," Gzalaznik said.
All agreed Meyer's 1-inch hair-do looked terrific.
Meyer wore a small hat when the two stopped for dinner.
On their drive home, McGinness called to tell Meyer she'd be dropping by that evening.
Meyer suggested she come at another time since she had to get up early for her chemotherapy appointment the next morning.
Haircut surprises
McGinness ignored Meyer's suggestion and was standing in Meyer's doorway when she got home.
Gzalaznik was parking the car when she heard commotion inside the house.
Rushing inside, she saw Meyer yelling and touching McGinness' nearly bald head. Unbeknownst to each another, the friends had visited a salon that day. Both were closely cropped.
Meyer was saying, loudly to McGinness, "Your hair. What did you do to your hair? Where is your hair?"
"They embraced, laughed and cried for every bit of five minutes," Gzalaznik said.
She remembered a camera in her car, got it and photographed the "M and M Haircut Surprises."
Why she did it
"I could see Debbie was withdrawing from her family, her friends, me and everyone who loved her," McGinness said later, explaining why she had her own hair cut to match her friend's. "When I'd stop in Oncology, when she was getting her chemo, I'd tell her how strong she was and how beautiful she was even with losing her hair. I could tell, to Debbie, the words were empty."
McGinness also was concerned that her friend was saving her fallen locks in a bathroom sink that was nearly filled.
"I wanted her to see me with no hair so I could ask her if she loved me any less or thought I was any less a friend without hair," she said.
It worked.
Lost confidence
McGinness had known her friend's anxieties weren't just about losing her hair. That, more or less, was but the final nudge over an emotional cliff.
Before Meyer was diagnosed with cancer, she had been deeply involved in a family crisis that continued for a year and a half. Then, her marriage of 35 years dissolved, ending in divorce. On Oct. 7, 2006, she lost a breast to cancer.
"We thought at first we could take care of my breast tumor without a mastectomy, " Meyer said, "That didn't happen, so I had to recoup my emotions to handle the surgery."
She said the steady wave of personal problems took its toll.
"It was all about losing my self-esteem, my confidence," Meyer said.
Varied reactions
"People react to being diagnosed with cancer in different ways," McGinness said.
Different women make different choices for treatment. Some choose the aggressive route, some the minimal, and others, usually older women, might choose doing nothing, she said.
Meyer chose, the same day as her mastectomy, to have TRAM flap reconstruction surgery. In that procedure, skin, fat and muscle is removed from the abdominal area and used to construct a new breast.
"Because I was at such high risk, I thought of having a double mastectomy," Meyer said. But, it wasn't an option because of complications caused by previous gall bladder surgery.
The doctor
McGinness has been a surgeon in Lawrence 19 years. Caring for women's breasts is about 80 percent of her practice.
She wondered how her patients would react to her new hairdo and was afraid they'd be unnecessarily worried. Some whispered their concern to her staff.
The haircut led her to decide to spend as much time as possible with Meyer, to gain a better understanding what her patients go through.
"I feel I already have empathy for my patients," McGinness said.
But her friendship with Meyer was an opportunity for a closer understanding of what is endured during cancer treatment.
The 'inconveniences'
McGinness spent lots of nights and weekends at Meyer's home, seeing firsthand the myriad of "inconveniences" that accompany cancer therapy.
Meyer developed mouth sores, was nauseated and had a strong metal taste in her mouth. After trying everything from green tea to hot chocolate as a possible remedy for the metal taste, they found the answer: grapefruit juice.
Chemotherapy treatments were Wednesdays every other week. Meyer, an interior designer, would hurry home afterward to get as much work done as she could before 3 p.m. the next day when the bad side effects would kick in.
"After that, I'd be challenged to get anything done for the next five days. Some days she didn't have the strength to get from her downstairs bedroom to the kitchen.
Friends would let themselves in Meyer's house to do her grocery shopping and cooking.
Wigs sometimes provided comic relief. Like the time Meyer was baking cookies, leaned her head too close to the oven and burned most of the bangs off her wig.
There was a period when Meyer's fingernails rotted off and smelled in the process. Along with her head of hair she lost her eyebrows and eyelashes, along with body and nose hairs.
There were days when her fingers were too numb for her to button her blouse. Her skin became dry and she developed blisters on the bottoms of her feet. All were symptoms common with chemotherapy.
New life, new hair
Meyer's last chemotherapy was March 8. That was followed by 33 rounds of radiation.
McGinness kept her hair short, even shaving her head at Thanksgiving to support her friend. One cold morning, Meyer phoned McGinness.
"My head is freezing and I know your head is cold, too," she told her. "So I want you to grow your hair back."
McGinness was touched and cold even under her hat. She let her hair grow.
Meyer said her life changed after chemotherapy and radiation.
"About the time spring was coming along, everything started growing, including my hair and my fingernails. It was a good feeling to actually survive and know I was a strong, independent individual," she said, wiping her eyes. "You're angry when all of those things are happening to you, but ... "
She shrugged her shoulders.
McGinness and Meyer have known each another about seven years.
"When I first met Debbie I thought she was a 'Barbie Doll,'" McGinness said. "Every hair was perfect, looked gorgeous, makeup, clothes, all of that."
She said that impression vanished as their friendship blossomed and they shared the experience of Meyer's illness.
"She's been through a lot of trauma over the past five years and I've watched her grow from a cocoon to a butterfly into a strong woman and a wonderful friend."
Copyright 2018 The Lawrence Journal-World. All rights reserved. This material may not be published, broadcast, rewritten or redistributed. We strive to uphold our values for every story published.