Question or story idea?
We'd love to hear your ideas and comments. Login to submit.
My Cancer, My Story features
Jamie Kelley is a husband, a father, a best friend, a hard worker, an outdoorsman, an adventurer and a survivor. He recently celebrated his seventh year in remission from leukemia — after being told in 2001 that he had just a 15 percent chance to live.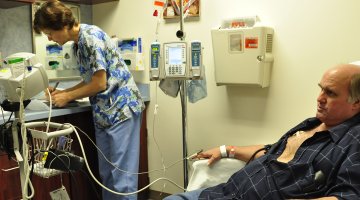 "I'm not fighting cancer. I suppose when you start fighting cancer that's the time it wants to kill you, wants to take your life from you. Then the fight's on. Me, I'm just being treated for cancer; I'm not fighting cancer."
David Brooks discusses his life since his cancer diagnosis in 2004.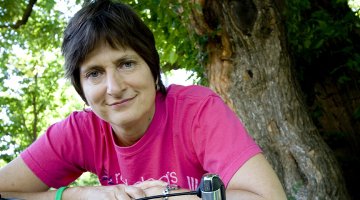 Marilyn Hull sits in her favorite chair. And she talks about breast cancer.
In June 2007, Richard Brown felt a protrusion on his shin that was becoming more and more tender to the touch.
More My Cancer, My Story
By Rachel Morris - Special to the Journal-World
April 26, 2010
In July 2008, Rolland Hueston, then 79 years old, was mowing the lawn when a painful sneeze became the beginning of a series of life-changing events. He remembers the incident as if it were yesterday.
By Halsey Yankey
April 12, 2010
Darren Pousson is a man like any other in many respects. He has a lovely wife, Pamela, two children, Maylee, 4, and Albany, 2, another child on the way, and a career as an electrician.
By Meagan Bigbee
April 5, 2010
By Bill Snead
March 21, 2010
In January 2008, John Ross had his annual physical. He felt good. He knew he'd get some grief about his cholesterol but he was working on that.
Despite battling cancer for more than two years with few lucky breaks, this Baldwin City mom lost neither her sense of humor nor her competitive spirit
By Bill Snead
February 25, 2007
Editor's Note: Baldwin City resident Kathy Jardon fought cancer for more than two years. From conversations and her journals, Senior editor Bill Snead found that battling cancer can be a full-time job.
By Kathy Jardon
February 25, 2007
Editor's Note: Kathy Jardon was diagnosed with cancer March 23, 2004. After 15 months of undergoing surgeries, chemotherapy and radiation treatments she realized that her cancer could be a big part of her life for a long time. Unlike the flu, it would not just go away. Kathy started writing this piece June 5, 2005
By Bill Snead
October 15, 2006
Debbie Meyer's life had become an emotional yo-yo with too much downspin. Two months earlier, on a Saturday morning, Dr. Marilee McGinness had driven from Lawrence to Meyer's home in Lenexa to personally deliver bad news. Meyer's breast biopsy, taken the night before in McGinness' office, was positive. She had cancer.
Julie Cowdin battles with a cancer gene
By Bill Snead
January 29, 2006
It had been a long day, and Julie Cowdin was getting ready for bed. Glancing at her bathroom mirror, she thought she noticed a redness on her left breast. A closer look got her attention. She asked her husband, Tim, for a second opinion.
January 29, 2006
Julie participated in Lawrence Memorial Hospital's writing workshop, "Your Life is Your Life: Writing for Hope and Healing." "I was the Edgar Allan Poe of the group," Julie says, laughing.
By Bill Snead
January 29, 2006
Nearly all of us know someone whose life has been devastated by cancer. But, as most who've had the disease will say, it's difficult to comprehend cancer's toll without firsthand experience.
Lawrence survivor shares story
By Bill Snead
November 20, 2005
A whole lot of Katy Beard's character, sense of humor and outlook on life is packaged in "Talking Back," a straightforward piece of prose she created in Caryn Mirriam-Goldberg's writing workshop at Lawrence Memorial Hospital. It could also fit the outlook of those with cancer who are emotionally and physically capable of champing the bit of recovery firmly between their teeth. Cancer patients probably lead the league as targets of unsolicited, well-meaning advice.
Prev Next