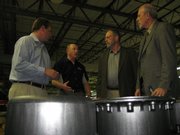 HiPer Technology Inc. is poised to hire another 85 employees, boost shareholder return by 500 percent and accelerate into new markets that offer almost infinite payoff potential, the company's CEO says.
All he needs is $1 million.
"It's slow and painful," said Jim Stinehelfer, of the constant push to generate venture capital for a young business, even a promising one with a product gaining traction. "But it's a virtually unlimited opportunity."
Across the table and listening to the pitch with a thoughtful ear was David Kerr, who has been touring the state in recent weeks to see what business opportunities are out there.
Just two months into his new job as the state's secretary of commerce, the former president of AT&T-Kansas; is looking for ways to help bolster the efforts of companies such as HiPer, which Kerr likened to a smaller version of Spirit Aerosystems in Wichita.
Both companies are using composite materials - Spirit for the nose sections of airliners, HiPer for wheels on all-terrain vehicles - to make products that can change industries and improve the way people live, he said.
"This is one of those sectors where Kansas can have an advantage," Kerr said.
While Kerr wasn't ready to propose a specific program or policy - or write a check - to help HiPer's owners, he did see several opportunities during Tuesday's visit to Lawrence, which was organized by state Rep. Tom Sloan, R-Lawrence, and included Lavern Squier, president and CEO of the Lawrence Chamber of Commerce.
They met with leaders of the Lawrence Technology Association, then toured four companies:
¢ Pinnacle Technology, whose diagnostic devices, flight simulators and other products have customers spanning the military and private businesses.
¢ Deciphera Pharmaceuticals, looking to attack cancer, inflammation and metabolic diseases by creating small-molecule therapeutics.
¢ Microtech Computers, which makes supercomputing clusters - something Sloan would like to see the state invest in, for use by researchers and private industry.
¢ HiPer, formed in 2000 to make vehicle components out of carbon-fiber resins. The company, with 17 employees, looks to have sales of $2.7 million this year and crack $4 million in 2008, said Tom Darnell, HiPer's founder and vice president for engineering.
HiPer figures to double the size of the company next year on the strength of a single contract - for a head and neck restraint to boost safety in the racing industry, Darnell said. HiPer also is working on a wheel for light sport aircraft.
Branching out from wheels limited to use on all-terrain vehicles takes money, Darnell said, and if HiPer is going to start making baseball bats or other products, it's going to need to find ways to attract more venture capital.
A recent round of venture capital efforts that raised more than $500,000 put HiPer on the path to profitability, led by the hiring of specialized engineers.
"That's just like investing in tooling," Darnell said. "It's expensive."
Stinehelfer, who helped lead a tour of the 42,000-square-foot design and manufacturing center at 2920 Haskell Ave., reminded Kerr that venture capital operations thrived on the East and West coasts because they were near the Massachusetts Institute of Technology, Stanford University and other bastions of higher education.
With Kansas University in Lawrence, he said, the state has a prime opportunity to help build the same momentum on the Plains.
"It's a venture capital engine, once you get it going," he said. "But it's not going in Kansas yet."
Copyright 2018 The Lawrence Journal-World. All rights reserved. This material may not be published, broadcast, rewritten or redistributed. We strive to uphold our values for every story published.