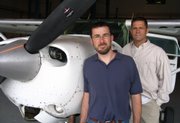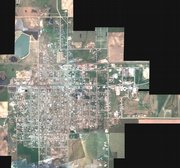 Several Kansas University researchers are providing a bird's-eye view of Greensburg, the Kansas town wiped out by a tornado early this month.
A team from the Kansas Applied Remote Sensing Program, part of the Kansas Biological Survey, spent about an hour flying over Greensburg on May 14 in a two-seater Cessna 182. The plane has a softball-size hole cut in the bottom and is equipped with a roughly $30,000 camera and computer system to take high-resolution aerial photographs.
"From the air, you really just see the full extent of everything. You can take in the whole picture at once and just see the sheer size of the destruction that happened," said Mike Houts, a research assistant with the Kansas Biological Survey who rode in the plane.
The result is a set of digital maps - or "geospatial data" in scientists' terminology - showing the town at the detail level of roughly one pixel per 1.5 feet. Houts said it was the most complete aerial mapping of Greensburg since the tornado hit.
KU put the images online so that government agencies, private companies and anyone else can download them and overlay them with other data, such as the location of underground storage tanks or property lines.
Kevin Dobbs, a Kansas Biological Survey employee who worked to assemble and publish the maps, said they were downloaded roughly 300 to 400 times in the first week they were online. He said he knew the Kansas Department of Health and Environment was interested in using the images to coordinate waste disposal, but other than that he's not sure exactly how they'll be used.
"We made it available to anybody who wants to use it," he said. "We didn't want to create any barriers."
KU has used the plane for about seven years, mainly to map vegetation at places including Yellowstone National Park and Fort Riley. The camera shoots images in normal color and in infrared, which causes green plants to stand out in contrast to other materials.
The Greensburg trip cost about $3,000 and was paid for through the Kansas Geographic Information Systems Policy Board, a division of the state's Department of Administration.
Copyright 2018 The Lawrence Journal-World. All rights reserved. This material may not be published, broadcast, rewritten or redistributed. We strive to uphold our values for every story published.