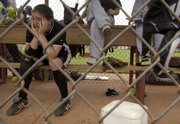 Wichita — Going a combined 5-for-6 with three RBIs should make the final two games memorable for Free State High senior softball player Livi Abney.
But the memory that will stick out is losing those games on the final day of the Kansas Class 6A state tournament.
"We talked about wanting to give it all we had, and I just wanted to make sure that when I left this school and when I left this tournament that I left everything on the field," Abney said after the losses in the semifinals, 9-0 to Derby, and the consolation game, 7-4 to Topeka Washburn Rural. "I came to the field today thinking I was going to be a state champion. So it takes away a lot of just being here because I truly believed that it was going to happen."
Abney, who had a triple and a double in the consolation game, knocked in sophomore Maggie Hull twice, as well as senior Aleese Kopf, who scored again in the seventh inning off a triple by Hull.
"We're each other's biggest fan," senior first baseman Brooke Abney said about her twin sister, Livi. "It'll be really hard to play without her. I'm sure it will be hard for her to look at someone else as her first baseman."
Brooke was the only batter in the No. 4 through No. 9 postions to have more two hits on the day, getting a single in each game. The only other hit in the bottom part of the order came on a bunt single by sophomore Rosie Hull.
Senior Allie Hock got on base after drawing a lead-off walk in the fourth against Washburn Rural - the only lead-off batter Free State had reach base in game two.
The Firebirds' lack of offense began in the semis, where they mustered only three hits off the bats of Maggie Hull and the Abney sisters.
"I'm not quite sure what was going on - if we had just used everything we had against Shawnee Mission West, I don't know," Free State coach Pam Pine said. "This morning we just came out without any energy."
Derby starting pitcher Shaina Brock didn't make easy for the Free State batters, striking out 12 in six innings of work.
For the Free State pitchers, a long ball in the late innings of both games ended any hopes for the struggling offense to make a comeback.
Against Derby, Free State freshman Megan Smith - who took over after her sister, junior Catherine Smith, gave up four runs in 1 2/3 innings - held the Panthers scoreless through 4 2/3 innings before giving up five runs, including a three-run home run, in the top of the seventh.
Catherine went a little deeper in the second game, but in the fourth inning gave up a grand slam to make it 6-1 and was relieved once again by Megan, who went 2 2/3 innings and allowed one run.
"Catherine struggled a little bit, which she hasn't all year," Pine said. "I really don't know what the deal was with the whole team today. But anyways, I told the girls we had a great season. We got to state, we got fourth when we were the fourth seed. Things happen for a reason, and hopefully they'll learn something from this. And they should be proud because they did good this season, and I'm proud of them."
Making things more difficult, for the four seniors in particular, was that Sunflower League rival Olathe East wound up winning its fourth consecutive state title by defeating Derby, 5-0.
"It's nice to know that of the top-32 6A teams in Kansas, we're fourth, but the champions, again, are somebody we've beat," Brook Abney said. "It's tough to look over and see them with their first-place trophy, and we know we can beat them. We've shown it. We're the only team in the last four years that has shown we can beat them. So it's bittersweet of course."
Copyright 2017 The Lawrence Journal-World. All rights reserved. This material may not be published, broadcast, rewritten or redistributed. We strive to uphold our values for every story published.