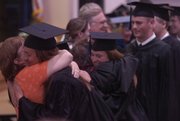 Staying cool
At this time of year, Allen Fieldhouse, which isn't air-conditioned, has a reputation for being hot.
¢ Kansas University spokesman Todd Cohen recommends that those attending graduations dress lightly, bring fans, have water and even pray for rain.
¢ Three years ago, when former President Bill Clinton spoke at the fieldhouse to a crowd of 12,000, temperatures hovered between 90 and 95 degrees.
¢ According to the National Weather Service, Lawrence could see a high temperature of 76 degrees Sunday. There is a 50 percent chance of showers and thunderstorms.
¢ Even with cooler weather, Cohen said, the fieldhouse could be "stuffy."
A total of 739 graduates of the city's two public high schools will throw their caps in the air during two ceremonies Sunday at Kansas University's Allen Fieldhouse.
Lawrence High School has 390 graduates who plan to participate in the 1 p.m. ceremony. Free State High School's ceremony will follow at 4 p.m., when 349 students will graduate.
Lawrence public schools will recognize 432 LHS graduates and 362 FSHS graduates. Not all graduates will participate in the ceremonies.
At private high schools in Lawrence, students already have participated in graduation ceremonies. Ten seniors at Veritas Christian School, 256 N. Mich., graduated last Saturday.
Seventeen students graduated Friday morning from Bishop Seabury Academy, 4120 Clinton Parkway.
Following Sunday's public school graduations, parents and area businesses will host Project Graduation, a drug- and alcohol-free party. This year's event will begin at 10 p.m. Sunday at Abe & Jake's Landing, 8 E. Sixth St. Project Graduation will conclude at 3 a.m. Graduates from all four schools are invited to the event.
Lawrence's Laird Noller Automotive is donating a 1999 Mazda 626 to be given away at the event. Other prizes include cash, scholarships, iPods, computers, a camera and a dorm television.
There also will be several activities, including a casino, a mechanical bull, a cash cage, NASCAR racing games, a prize wheel, karaoke, and food and beverages.
Tickets for the event, which are $5, can be purchased at the event, as well as at each school's graduation practice.
Private schools
Students at two private schools in Lawrence already have graduated.
These Veritas Christian School students graduated last Saturday: Micah Barclay, Elizabeth Bartlow, Krestan Boutross, Aileen Doll, Rachael Gabler, Nathan Hammer, Franchesca Jarrow, Joshua Masrud, Chelsea Rebman and Sean Steinle.
And these Bishop Seabury Academy students graduated Friday morning: Philip Anderson, Max Cannon, Aaron Chung, Jennifer Crawford, Will Davidson, Justin Esau, Lane Frizell, Laura Gauch, Liz Hughes, Scott King, Minkyu Lee, Erin Levy, Christopher Neal, Mike O'Malley, Shiv Subramaniam, Simon Thompson and Molly Thurman.
Copyright 2018 The Lawrence Journal-World. All rights reserved. This material may not be published, broadcast, rewritten or redistributed. We strive to uphold our values for every story published.