Photo Gallery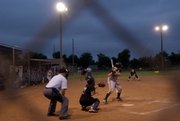 Free State softball
Wichita — Free State High's Allie Hock officially made last year's 6A state softball tournament a thing of the past.
Trailing by a run, Hock bounced a walk-off single over the Shawnee Mission West shortstop to plate Maggie Hull and Livi Abney for a first-round, 7-6 win at Wichita's Two Rivers Complex.
"The ground was obviously hard. I learned that from a previous at-bat when one of those kind of did that," Hock said.
Fortunately for FSHS, they started at the top of their lineup in the final inning. Their top-five batters were a combined 7-for-13.
"I felt pretty good going into the bottom of the seventh inning with my two, three, four batters coming up," Free State coach Pam Pine said. "If they couldn't do it, then I knew it wasn't going to get done."
Maggie Hull and her twin sister, Rosie Hull, led a FSHS defense that made some huge defensive plays.
In the first inning, Maggie threw out a runner at home plate from her position in right field - then hit a solo home run in the bottom of the inning. Rosie, who struggled at the plate, going 0-for-2 with a walk - turned in a run-saving throw from left field in the top of the seventh to keep the Firebirds within a run going into their final at-bat.
"At the beginning of the season we made a list of goals, and on both of our lists was 'Throw a runner out at home' and we had yet to do that all season," Maggie Hull said. "So it's just really cool that I got to do it in the first and she got to do it in the last inning."
The defense was especially important because junior starting pitcher Catherine Smith began getting knocked around in the fifth inning, allowing five runs before recording an out.
Catherine was replaced by her sister, Megan Smith, in the sixth inning.
In a reverse role of the regionals championship, where Catherine came in for Megan and shut out the opponents, the freshman pitcher went two scoreless innings to pick up the win.
"We actually had talked about this on the way down here because I was like, 'This is the biggest stage you've ever pitched on, and it's probably going to happen sometime this weekend. You're going to pitch, and you're going to have to pull through,'" Catherine Smith said.
Free State now will face eighth-seeded Derby, which defeated No. 1 Blue Valley West, at 10 a.m. in hopes of playing in the championship game at 1 p.m.
"We were confident coming in, but now we have all the momentum," Maggie Hull said.
Copyright 2018 The Lawrence Journal-World. All rights reserved. This material may not be published, broadcast, rewritten or redistributed. We strive to uphold our values for every story published.