Photo Gallery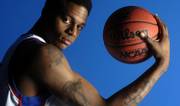 Brandon Rush Photo Gallery
Brandon Rush, who today announced his plans to withdraw from the NBA Draft, at least in part because of a right knee injury, was walking with a slight limp with an elastic sleeve on the knee outside Allen Fieldhouse.
Rush, who said he hurt the knee in a pickup game in Kansas City two days ago, was asked if he had a torn ACL as some rumors have suggested.
"I don't think so," Rush said, holding a bag of ice. "I think it's more like a sprain. They (doctors) still have to look at it (in coming days)."
Rush indicated his injury was not the reason he elected to return to school. "That had nothing to do with it," he said.
Rush did say minus the injury he would have attended the Orlando draft camp next week "to see where I stood."
KU coach Bill Self indicated no further information on Rush's knee injury would be available until next week.
"He has some swelling in there. He will be evaluated seriously early next week," Self said. "He came down on the knee wrong. It swelled up on him. It was very very stiff. With him leaving on Tuesday going to the draft deal, he knew he would not be in shape to do that."
-->
Copyright 2018 The Lawrence Journal-World. All rights reserved. This material may not be published, broadcast, rewritten or redistributed. We strive to uphold our values for every story published.