Chase Buford, whose dad, R.C., was an assistant coach on Kansas University's 1988 national championship basketball team and mom, Beth, a standout KU and professional golfer, has accepted a walk-on spot on the Jayhawk hoops team.
"It's in my blood, I guess," Buford, a 6-foot-3 senior guard from San Antonio's Alamo Heights High said of KU, where aunts Beverly and Barbara also played golf and two grandparents, Warren and Nancy, coached and taught classes.
"I've probably been to four or five games there. The atmosphere is second to none," added Buford, who has known KU coach Bill Self his entire life. Self roomed with R.C. during the 1985-86 season when Self was a grad assistant and Buford a full-time aide on Larry Brown's KU staff.
"It's a great opportunity. I'm excited I get to play again."
Chase Buford - who averaged 9.2 points and 2.7 assists his junior year - was diagnosed with mononucleosis on the first day of basketball practice last fall. An enlarged spleen, which was a side effect of the disease, cost him his entire senior season. A wide receiver, he had missed the entire football season because of a broken ankle.
"Every time he'd get it scanned, it was, 'Nope,''' Alamo Heights coach Charlie Boggess said of doctors' recommendations not to take the court because of the spleen problem.
"You remember Chris Simms, the quarterback who was hit in the spleen last season? If Chase was hit there, he'd have died. Once the spleen is enlarged, if it's down significantly you can pad it, do some things so you can play. His didn't go down. At the same time his immune system weakened and he was sick a lot. He's OK now and ready to play," Boggess added.
Boggess said Buford played both point and shooting guard his junior season and came on strong in averaging 16 points a game the final 12 games. He also was a starter for the San Antonio Spurs summer AAU program for several seasons.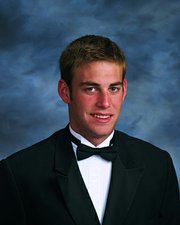 "He has a nice stroke and likes to go to the rim. He's a tough kid with quick hands, not afraid to take charges," Boggess said of Buford, who also could have walked on at Virginia, Texas or Florida.
He heard from several mid-major coaches about possible scholarships his junior season.
"He's a blue-collar player with a great knowledge of the game. He has a knack for the game. I would bet he'd follow in his pop's footsteps," Boggess added of R.C., regarded as one of the top GMs in the NBA.
"I think he'll be a good addition to Kansas' team. Put him around really good athletes and he could take another step in the right direction. He'll be a good guy to have around. He'll work hard. He may surprise some people, get in games and do some good things, especially toward the end of his career."
Of possible playing time, Chase Buford joked: "Realistically, if I play a lot, it means something is not going well. I'm not counting on it, but I will do all I can, just like any other player."
He describes his style of play as "a poor-man's Steve Nash. I like to pass, run the open floor, hit shots when I'm open. I'd rather set up other people than shoot."
R.C. Buford said his son is a student of the game.
"I love watching games with him. He understands it. He is good at seeing the whole game, understanding plays. He's a great teammate," R.C. Buford said.
Buford knows his son will cherish the big-time basketball atmosphere at KU.
"He had a lot of attention from smaller D-1's," Buford said, "but that's never what he wanted to do. He's been in Allen Fieldhouse, Spurs Arena. Playing basketball where it is important is something he's wanted to do."
He knows he is following in the footsteps of some accomplished Jayhawks in his own family.
"There are probably not many ways I can live up to what they did. I'll try," Chase said.
Mom Beth, who like the rest of the family attended Game Two of the Western Conference finals on Tuesday night in San Antonio, said she "is thrilled to death. It's an answer to my prayers. It'll be interesting to see how he responds in such an intense atmosphere. I guess I'll be coming back to (Lawrence) a little more often now."
"It's a unique opportunity to play at Kansas and a special opportunity. I'm thrilled for Chase," R.C. stated. "He will get to experience some great moments, as I did. I'm happy he found a place he feels is right for him."
Self cannot comment on the addition of Buford to the team until Buford arrives on campus for summer school. KU now has four walk-ons on the roster next season, including Matt Kleinmann, Conner Teahan and Brennan Bechard. Junior-to-be Brad Witherspoon is a fifth walk-on who Self has said is not assured a spot on the 2007-08 team. Self has said Witherspoon would go through tryouts next fall. Preferred walk-ons like Bechard, Buford, Teahan and Kleinmann do not have to go through tryouts.
Copyright 2018 The Lawrence Journal-World. All rights reserved. This material may not be published, broadcast, rewritten or redistributed. We strive to uphold our values for every story published.