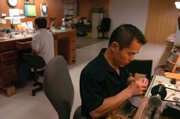 A watchmaker plies his trade
The ticking never stops in "Mac" Tinh Chi Truong's basement.
At 10:04 a.m., Truong, 50, and his brother Tinh Kiem Truong, 48, sit at separate stations each peering through magnifying glasses to examine wheels and pinions as they work to repair orders of watches on the fritz.
Mac Truong's house, 4820 W. 24th St., is home to his business, Central States Watch Services. Wall clocks stand guard above each workstation. When they get a watch running, Truong and his brother can look up and set it to the correct time.
Precision is important. All of the wall clocks are set to a large digital clock that hangs in the room; it gets its signal from a satellite.
The ticking also emanates from a shelf full of envelopes with repaired watches. At 10:15, a grandfather clock's chime fills the room.
Mac Truong learned the trade in the 1970s as a way to keep him out of the army in Vietnam. Then he moved with his family to California and to Lawrence in the 1980s.
He worked at Marks Jewelers, 817 Mass., before starting his own business in 1997; two of Truong's other brothers still work there.
Truong contracts repair work from Kansas City area jewelers, and they pick up about 60 jobs per week.
"He's the one actually doing the repair a lot, and so is my wife," Mac Truong said of his brother and his wife, Tuyet Trang(cq).
Having his own business gives him more flexibility with the precious commodity of time, Truong said. He figures the trade is safe because, well, everyone likes to wear a stylish watch and to know what time it is.
"I think it will probably never become obsolete," he said.
Copyright 2018 The Lawrence Journal-World. All rights reserved. This material may not be published, broadcast, rewritten or redistributed. We strive to uphold our values for every story published.