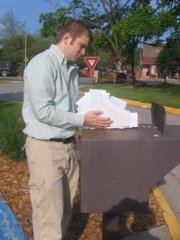 Chris Eichhorn removes an envelope from a stack on his desk and opens it. He pulls out a handwritten, personal check and puts it in a stack of its own. He repeats the process with another envelope.
Eichhorn, 23, is a tax collector in the Douglas County Treasurer's office. Today is the deadline for homeowners to pay their real estate and personal property taxes. Eichhorn's job is to handle mailed payments. He also tackles a variety of other paperwork and record keeping duties.
"Despite what you read about us in the Bible, tax collectors are really nice people," Eichhorn says, smiling.
Eichhorn also answers phone calls.
"People aren't always happy about paying their taxes so once in a while somebody wants to argue with you, but people are usually polite and nice," he says. "Sometimes you get somebody who just wants to talk."
Periodically Eichhorn walks to the parking lot behind the Douglas County Courthouse, 1100 Mass., and collects envelopes from a drop box.
Eichhorn graduated last year from KU. He is in his 10th month of working in the treasurer's office. At KU he studied business administration with a concentration in human resource management.
"I'd probably like to get into that some day but until then I'm pretty happy working here," he says.
Copyright 2017 The Lawrence Journal-World. All rights reserved. This material may not be published, broadcast, rewritten or redistributed. We strive to uphold our values for every story published.