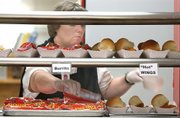 Along with breakfast, lunch and afternoon snacks, cafeteria workers at Central Junior High School, 1400 Mass., serve up loads of laughs.
The group of six crack jokes and poke fun at one another as they prepare a meal of soft tacos, taco salad, chicken wings and leftover macaroni for 550 students.
All are friends. Some, such as cafeteria manager Dixie Workman and head cashier Debbie Nall, have been working together for decades.
Workman and Nall say it's the children - well, most of them - who keep them coming back year after year.
"I like seeing their outfits," Workman says. "What they come up with every year is very interesting. I like some of their personalities, too. They're all so different.
"Some of them you just love to death, and some of them you wish were ninth-graders the first year that they're here."
When the students arrive, the jokes stop. It's hard to hear over the noise of dozens of hungry teenagers.
"Sometimes you have to say, 'What'd you say you wanted? What? What? What?'" Workman says.
"And sometimes they'll say, 'Get a hearing aid!'"
Copyright 2018 The Lawrence Journal-World. All rights reserved. This material may not be published, broadcast, rewritten or redistributed. We strive to uphold our values for every story published.