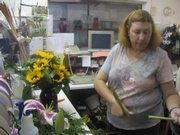 Janis Harvey moves her hands and fingers effortlessly as she put the finishing touches on an arrangement of sunflowers in the back room at Englewood Florist, 1101 Mass.
Sunday is Mother's Day and the orders are pouring in. Harvey, who is normally a part-time worker, is putting in a lot of hours this week. But the flower business is usually busy anyway, she says.
"People call in from across the country, even internationally," Harvey said. "A lot of times it's for students at (KU)."
The most common floral arrangement requested by customers is a bouquet of mixed flowers with different colors, Harvey said. It takes her an average of 15 minutes to make an arrangement, depending on the order, she said.
"The most labor intensive is the corsage," Harvey said. "They are small and it takes a lot of time to do."
Harvey also assists customers visiting the store. Young men usually need the most assistance in selecting flowers, she says. Older men are better at knowing what they want, she adds.
Harvey's favorite part of the day is coming in and finding out what kind of work is ahead of her.
"Is it going to be really busy or are we going to have a big wedding to do that day?" she says.
Harvey' describes her interest in flowers as simple. "They smell great, they look great, they beautify your home and they make people happy," she says.
Copyright 2018 The Lawrence Journal-World. All rights reserved. This material may not be published, broadcast, rewritten or redistributed. We strive to uphold our values for every story published.