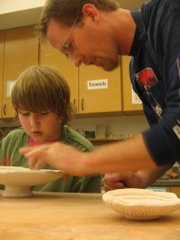 A dozen or so individuals gather in an upstairs room at the Lawrence Arts Center for Hollie Rice's family pottery class.
The class is exactly what it sounds like: a chance for couples, children and even a few individuals to spend time together making bowls and plates from clay. A sign of the times: No one is making an ashtray.
Jeff Harkin says he drives to Lawrence from his home in Shawnee to take the class with his son James and his girlfriend. The Harkin men work together to select a glaze for a shallow bowl they made.
"Kids love to play in dirt," Jeff Harkin says, quoting Rice. "It's pretty forgiving and you can't do much damage. : We can have good times working together."
And if there are lessons to be learned, well, that's fine.
"Clay," Rice says, "is the most flexible material on the entire planet."
Copyright 2018 The Lawrence Journal-World. All rights reserved. This material may not be published, broadcast, rewritten or redistributed. We strive to uphold our values for every story published.