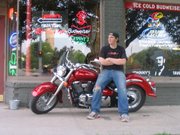 Get your motor runnin'
Don't count Ben Wilson among the thousands of Lawrence residents who spend part of their 24 hours inside their vehicles.
Wilson spends his time atop his: a 2002 Suzuki Intruder motorcycle.
"Gas is unbelievably the best part about riding a bike," says Wilson, who works at Johnny's Tavern in North Lawrence and often has his red machine parked in front for all to see.
Wilson's bike gets more than 35 miles to the gallon, and a fill-up generally cost less than $15.
But it is not all about economy. Wilson says it's tough to beat the feeling a good ride provides.
"You've got the wind blowing through your hair, and you feel like you can do your own little dance in your lane," Wilson says.
Lawrence is a good place to ride, he says. The hills provide a nice riding environment, and the "view is good." He says Lawrence motorists do a pretty good job of watching out for bikers.
But if he thinks someone isn't paying attention, his bike has a built-in way to change that: A couple of quick twists of the throttle, and the bike's pipes roar with the awakening sound of horsepower.
Beats a car horn any day.
Copyright 2018 The Lawrence Journal-World. All rights reserved. This material may not be published, broadcast, rewritten or redistributed. We strive to uphold our values for every story published.