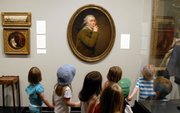 Kansas University officials confirmed Wednesday that they're negotiating with a developer about building a fine arts and science museum in Olathe.
Early discussions with MaeGrace LLC have revealed vague details about a museum that would house elements from the KU Natural History Museum and Spencer Art Museum.
The proposed museum would be constructed alongside a hotel and convention center across the street from a new Bass Pro Shop in suburban Kansas City.
While both sides have been talking, making the project jump the several hurdles it faces could pose a challenge.
KU and Olathe officials said discussions about the proposal will remain in early stages as they determine its chances for success.
"It's the kind of opportunity that deserved a serious look and a serious feasibility study that is ongoing," said Leonard Krishtalka, director of the Natural History Museum. "So we have not made any decisions."
KU officials said Wednesday that the project, which would be about 4 miles from KU's Edwards Campus in Overland Park, could boost the university's visibility in the Kansas City area.
"It's very early in the game; there are no details to report other than it's a really fine opportunity to expand KU's presence in Kansas City," Krishtalka said.
Copyright 2018 The Lawrence Journal-World. All rights reserved. This material may not be published, broadcast, rewritten or redistributed. We strive to uphold our values for every story published.