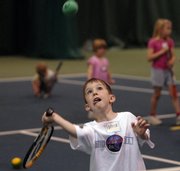 Nicholas Stefanov, 1, clutched an adult tennis racket in his arms and two tennis balls in his hands, trying his best not to lose control. He was the youngest in a group of about 50 people who got together Saturday morning for a tennis block party.
While Nicholas played a game of his own, those a little older used much smaller rackets to hit oversized tennis balls over a small net at First Serve Tennis, 5200 Clinton Parkway. Adults and older children played tennis-related games and practiced their stroke as a part of the celebration, sponsored by First Serve and the Lawrence Parks and Recreation Department.
"You're going to let it bounce and then hit it up," Parks and Recreation employee Jill Cannon explained to a group of children during one activity.
Many tennis-savvy parents used the event as an opportunity to introduce their children to the game and to learn some new techniques of their own.
"I'd like for (my son) to like it, but we'll see," said Andy Norris, of Baldwin City, who plays tennis several times a week. "It's a lot better than soccer. It's great exercise and something you can do without having to have a whole team."
Kirsten Krug held onto three tennis rackets as she entered First Serve with her two children. She's a former Kansas University tennis player and is ready for her toddler children to learn the sport.
"It is so good for the body," she said.
But only two of the rackets were put to use. Krug couldn't find the courage to join in, fearing her skills might be a little rusty.
"I'm embarrassed to get out there," she said. "It's been too long; it's been too long."
Tennis balls flew everywhere in the four-court gymnasium. Participants stopped to pick up the balls only after large baskets of balls were depleted.
"Have you ever seen your kids move so fast to clean?" First Serve director of tennis Stuart Waters asked parents, as they watched their children compete to collect the most balls.
The energy and excitement was indicative of the event's purpose: Exposing players to the health and social benefits of tennis.
"Hopefully they'll follow up and keep playing," Waters said.
Copyright 2018 The Lawrence Journal-World. All rights reserved. This material may not be published, broadcast, rewritten or redistributed. We strive to uphold our values for every story published.