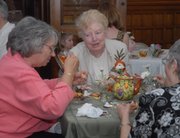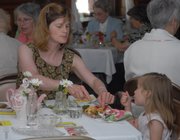 For looking up someone responsible for the construction of several buildings on the Kansas University campus, researcher Mary Burchill finds it surprising that there isn't more information available about Elizabeth Miller Watkins' life.
Watkins, who was the wife of Lawrence financier Jabez Bunting Watkins in the early 1900s, had funded the construction of places including Watkins and Miller scholarship halls, as well as Danforth Chapel.
"By golly, there's very little about her," Burchill said. "There was a lot about Jabez, her husband, but not a lot about Elizabeth Watkins."
That has prompted Burchill to become perhaps the most knowledgeable authority on the life of the philanthropist whose influence in Lawrence is still apparent today.
Burchill was the keynote speaker of sorts at the Mother's Day tea, conducted in Elizabeth Watkins' memory Saturday afternoon at the Watkins Community Museum of History.
Watkins, who was born in Ohio in 1861, came to Lawrence with her family in 1872 for reasons that puzzle Burchill.
"There's some reason why they came here, but I don't know what it was," Burchill said. "But I'm going to look hard to find out."
She also plans to find out why, at the age of 15, Watkins became the secretary of Jabez Watkins, who at the time was a well-established banker and landowner who was among the richest men in the west, as well as 16 years older than his assistant.
"How did she get that job?" Burchill said. "At that time, mostly these positions were carried by men."
The pair traveled the country together, ostensibly for work, until they got married when Elizabeth Watkins was 48.
What Burchill and others know without a doubt is that Elizabeth Watkins was instrumental in shaping the KU campus.
When her husband died in 1939, Watkins inherited a fortune to the tune of about $341 million in today's dollars.
She put that money into building the Watkins and Miller scholarship halls, which had been an innovative concept for student living at the time.
Sandra Weichert, whose husband, Allen, was a KU building architect, said many female students had few decent housing options before Watkins' contribution of the scholarship halls, which fostered communal living.
The concept was enough to draw then-First Lady Eleanor Roosevelt to Lawrence to learn more about it.
Watkins also donated what's now the Watkins Community Museum of History to City Hall back in 1929 and also made heavy financial contributions to make Lawrence Memorial Hospital a reality.
But most of Watkins' influence was on the KU campus, where an endowment and scholarship still lives on in her name.
"She would have very much liked to have gone on to school," Burchill said of Watkins, whose education ended in prep school because she had to care for her family. "She had a real affinity for students."
Those who live in the scholarship halls she helped create or who receive the scholarship in her name might agree.
Copyright 2018 The Lawrence Journal-World. All rights reserved. This material may not be published, broadcast, rewritten or redistributed. We strive to uphold our values for every story published.