Photo Gallery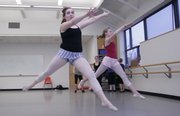 Rain Quinlan, home-schooled dancer
Rain Quinlan, 14, is "unschooled," which means she guides her own education. She chooses to spend a lot of time dancing at the Lawrence Arts Center.
Audio Clips
Home School - KNEA
Audio Clips
"In Their Own Words"
See more in our home schooling series
Rain Quinlan spends a good chunk of her day dancing and reading Vladimir Nabokov novels.
She's not really into math or science, so she doesn't study them. She prefers to go to African culture lectures and museums.
She's home-schooled - more specifically, she follows a form of home education known as "unschooling," which doesn't adhere to a set curriculum and lets students determine what they study. It's working out well for her - she says her SAT scores were above average for a high school senior, and she's only 14.
"This is what good parents do during summer vacation and weekends," says Quinlan's mother, Sarah Sobonya. "We just do it all the time."
Kansas law is among the most permissive in the nation when it comes to home education.
Sabonya, like many advocates, says unschooling and other methods of home schooling are perfectly legal. But the law is open to debate and interpretation.
Kansas does not specifically recognize home schools. Technically, home schools are considered nonaccredited private schools, says Kevin Ireland, a Kansas Department of Education staff attorney.
Such schools are not accredited or approved in any way by the state, although they must register the name and address of their school with the Kansas Board of Education.
Home educators also must follow the state's school attendance laws. Those laws require children between ages 7 and 18 to attend a public, private, denominational or parochial school for about the same number of hours or days that public school is in session (at least 186 days of not less than six hours per day).
Parents who home school are not required to be licensed teachers. However, they must be "competent instructors," a designation which is open to interpretation by the courts. (Most of the parents interviewed by the Journal-World for this series have college degrees, and many plan to send their children to public or private school when the subject matter becomes too advanced for them to teach comfortably.)
Additionally, precedent established in a 1983 Kansas Supreme Court case dictates that instruction must be planned and scheduled, with periodic testing.
Thriving unregulated
There's a lot of flexibility built into these guidelines, though.
Bethann Mansur has been home schooling in Lawrence for 20 years. Her two older children are in college, but her 10-year-old daughter, Clarate, has learned reading, writing, math, science, history and government from her mother in the comfort of their East Lawrence home.
School's in session here year-round. So when Mansur and Clarate recently took off three weeks to help care for Mansur's ailing mother, they weren't worried about falling behind. She'd hate for stricter regulations to stifle the educational rhythm she has built with her daughter.
"The whole idea for me - and really how it got started originally - was so that you could educate your child as you wanted," Mansur says. "I mean, for me to have to do No Child Left Behind, I would hate it. I don't have to teach to a test. I can teach to the interests of the child."
There is no move under way in the Kansas Legislature to tighten oversight of home education. The last attempts to do so - committee recommendations during the 1984 and 1985 sessions that would have required home-schoolers to pass a minimum competency test - generated such backlash by home school advocates that they never gained momentum.
J. Gary Knowles, a home school researcher at the University of Toronto, says that's typical.
"One of the really unique things about the home education movement is they've lobbied like hell in a lot of contexts and essentially achieved the status they have now through social movements," he says. "Conservative legislatures see that home educators are a considerable force and have considerable voting power."
Creating citizens
She's not ready to sound a rallying cry yet, but state Rep. Pat Colloton, D-Leawood, would like to see the state pass laws requiring home schools to supply proof that they're providing a well-rounded education, complete with citizenship training.
"Remember, the whole concept of a democracy is that we will have an educated public who can then run our democracy, choose our elected officials, be tolerant, be informed," says Colloton, a member of the House Education Committee.
Robert Reich, a Stanford University professor of political science who has written about the need to regulate home schooling, advances a similar argument and also contends that children only grow into free and autonomous adults when they're exposed to diverse values and ways of life.
"Home-schooled children can be sheltered and isolated in a way that students in schools, even sectarian private schools, cannot be," Reich writes in his essay for the book "Home Schooling in Full View." "Parents can limit opportunities for social interaction, control the curriculum and create a learning environment in which the values of the parents are replicated and reinforced in every possible way."
To prevent such isolation, he says, states should require home schools to register, teach curriculum that meets minimal academic standards and introduces value pluralism, and test students periodically for progress.
That's more in line with requirements in states with the highest level of regulation - New York, Pennsylvania, Vermont, Rhode Island, Massachusetts and North Dakota. Rules vary from state to state but include prior approval of home schools by local school boards, mandated subjects, detailed recordkeeping of attendance and progress, and standardized tests administered by certified teachers.
Lawrence Superintendent Randy Weseman says he supports parents' rights to home school but thinks there should be more supervision.
"Given the tremendous oversight applied to public schools, it does seem to be somewhat of a mystery as to why some oversight is not utilized," he says. "I imagine it is because of the cost. There are always benefits to some accountability."
Covering bases
Although Kansas law does not require home schools to maintain records, the education department recommends that home educators keep a log of their children's progress in case they choose to transfer to a public or accredited school, or apply for college.
It's also good to have those records on hand in case the county attorney or a case worker with the Department of Social and Rehabilitation Services comes knocking on your door because your child has been reported as truant, says Rod Bieker, a KSDE staff attorney.
If a school official believes a school-age child is not attending school, they're obligated to file a complaint with SRS. That agency then checks with the state to see whether the parent is registered to provide home instruction, says SRS spokeswoman Abbie Hodgson.
A case worker might visit the home to check on the situation. If it appeared the child's safety were compromised, she says, the worker would file a child in need of care petition, and the courts would get involved. In extreme cases, the child could be removed from the home.
Best and worst
Charlotte Ostermann, a home school parent from McLouth, is among those who are happy with the current state regulations.
"If they had more oversight, we'd have to say, 'How do you know you're providing a good education for students in public schools?'" Ostermann says. "It creates an adversarial role."
Paul Getto, a policy specialist with the Kansas Association of School Boards, agrees that without more research into the effectiveness of home schooling, much policy change would be unlikely.
"Home schooling is a legal option," Getto says. "I think the best schools in Kansas and the worst schools in Kansas are home schools. There's no supervision or regulation, so there's no way of telling which is which."
Copyright 2018 The Lawrence Journal-World. All rights reserved. This material may not be published, broadcast, rewritten or redistributed. We strive to uphold our values for every story published.