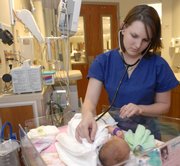 Isaac McPheeters on home schooling
See more in our home schooling series
There are times, just for fun, that Isaac McPheeters plays the part of the stereotypical home-schooler with his Kansas University classmates.
"People think I live under a rock. It's really weird," he says. "Sometimes I tell people, 'I'm a hermit. I live in a cave. You're the first person I've seen all year.'"
Joking aside, McPheeters, a Kansas University freshman, admits he's somewhat sheltered. He spent all but two years of his K-12 years being taught at home by his father near Lawrence, alongside his two younger brothers.
So the first day of KU classes last fall, when McPheeters walked into his huge Biology 100 class, was a shock.
"I really could not believe there were 1,000 people in that room," he says. "I go to school with friends I never see."
Last fall there were 85 students enrolled at KU who had been home-schooled. Some admit the transition to college can be difficult when you're used to being in class alone or only with your siblings.
Others point out that the transition to college is difficult, no matter what type of high school you attend.
Taking the next step
Home-schooled students must provide a high school transcript to be admitted to KU and other regents institutions. Kansas State University allows scores from the ACT, SAT or GED in lieu of transcripts.
Kansas residents also must score 21 or higher on the ACT, and nonresidents must score 24 or higher.
Starting in 2008, home-schoolers at state universities also will be required to pass the GED for admission.
Lisa Pinamonti Kress, director of admissions and scholarships at KU, says home-schoolers tend to have strong histories of civic participation on their applications.
"They'll get involved in community organizations, church groups, or Boy or Girl Scouts," she says. "These experiences are an important part of their education."
Proper preparation
The transition has gone well for McPheeters, who is continuing to live at home as he wraps up his freshman year at KU.
He thinks home schooling - if done properly - actually prepares students for college better than if they had gone to more traditional schools.
"With home schooling, it's all homework," he says. "You have to motivate yourself and pace yourself. ... High school is so different from college anyway. It's not like high school gives you a really easy transition."
McPheeters says he's made a few friends in his classes and continues to hang out with fellow home-schoolers who live in town, as well as other friends from his church, Grace Evangelical Presbyterian, 3312 Calvin Drive.
He says he still has eye-opening moments when he sees something he hasn't been exposed to before - such as a particular style of clothing. He's proud to be a virgin, has never had a girlfriend and isn't terribly familiar with popular music.
His father, Jeff McPheeters, says he's been surprised how well Isaac has adjusted.
"He's pretty proactive to problem-solving, getting help and talking to people to find out what he wants to find out," the father says. "I knew he'd probably engage the instructors, to find the help he needed."
Jeff McPheeters says he tried to tailor his son's high school education with the idea he'd be going to college. Because Isaac is majoring in business, he'll need to take more advanced math than he received from his father.
Tougher transition
That doesn't mean the jump to college always is easy.
For instance, Alison Kieler, a KU senior from Overland Park, says she had a hard time getting into KU because she was a nontraditional student.
"I probably didn't have adequate information on how to apply for scholarships and which to apply to," she says.
Kieler was home-schooled from third to 10th grades and attended St. Thomas Aquinas in Overland Park for a year. She was so dissatisfied with her experience there she decided to leave early and attend Johnson County Community College.
After her time there, she made the move to KU. Kieler will graduate this month with degrees in international studies and political science. She says she saw downsides to home schooling, especially among the "extremely religious" Catholic groups her family was friends with.
"(Some parents) do this to almost shut in their kids, to continue their religious doctrine, to shelter their children from the evil of the outside world," Kieler says. "And I felt so much of that, it was really disheartening. It was very challenging to make friends in that atmosphere."
And that's why, if she has children, she'd be more likely to send them to public schools.
"Looking back, I recognize the inherent difficulties in ensuring that your child is getting a holistic education at home and that your child has adequate opportunities to socialize," Kieler says. "I don't know if I would ever do it to my children ... I think all of home schooling can be a good thing if it's done right.
"But if done for the wrong reasons, and if children are sheltered too much, I don't think it's helpful at all."
'Best education'
Lauren Repine, 22, is a Lawrence resident who looks back fondly on her days as a home-schooler.
Repine, a neonatal nurse at Stormont-Vail Regional Health Center in Topeka, thinks the nontraditional setting helped her prepare for life after college. She was home-schooled from sixth through ninth grades.
A study released in 2003 by the National Home Education Research Institute - a home school research and advocacy organization - showed that 82 percent of adult respondents who were home-schooled said they "agreed" or "strongly" agreed with the statement, "I would home school my own children."
Also, when asked how strongly they agreed with the statement, "I am glad that I was home-schooled," respondents had an average rate of 1.3, with 1 being "strongly agree" and 5 being "strongly disagree."
"I still think of myself as a home-schooler, although I think technically I possibly went to traditional schools longer than I was home-schooled," Repine says. "I think it's absolutely the best education you can give because, I mean, no one cares as much about your kids as you do."
Repine made the transition to St. Thomas Aquinas between grades 10 and 11, then chose to return to home schooling for her senior year. She admits the transition to a private school was sometimes difficult and "was kind of ridiculed by teachers" for her home school background.
But, overall, she's glad her parents home-schooled her. She thinks she'd like to do the same for her children down the road.
"I remember there being the days that I was home-schooled, and I was just like, 'I hate this. How come I can't ride the school bus like everyone else?'" she says. "But I'm glad my parents did that, and I respect them a lot for the choices that they made."
Copyright 2017 The Lawrence Journal-World. All rights reserved. This material may not be published, broadcast, rewritten or redistributed. We strive to uphold our values for every story published.