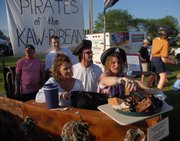 For Dave Billings, it's not only how you cook barbecue that matters; it's how you look while doing it.
That would explain why he and his cooking cohorts looked more like pirates from Treasure Island than cooks stationed at the Sertoma Barbecue Cook-off on Friday afternoon at Broken Arrow Park.
As representatives of Factory Direct Appliance and Custom Wood Products, Billings and his friends were vying for the corporate challenge award - not for the best food, but for the best-looking booth.
They didn't win last year, but this year was a different story. Billings and his friends, "The Pirates of the Kaw-ribbean," won the best booth award.
It so happened they took home the corporate people's choice award for best food, too.
CEK Insurance won the judge's award for best food for its pork tenderloin that was cooked over a simple Weber grill rather than the large, fancy grills that most competitors use.
The Sertoma State Championship Barbecue Cook-off resumes today at Broken Arrow Park, which looks more like a flea market dotted with tents and shacks.
Residents today can judge food from 48 barbecue teams, some from as far away as Dallas.
Billy Irons will be there today. He and his wife are camping out after making it to Lawrence from Lee's Summit, Mo. He brings with him more than 26 pounds of pork shoulders, his favorite kind of meat.
"The ugliest meat ever created," Irons explains as he trimmed fat off of basketball-sized pork shoulders. "And also the best."
Copyright 2018 The Lawrence Journal-World. All rights reserved. This material may not be published, broadcast, rewritten or redistributed. We strive to uphold our values for every story published.