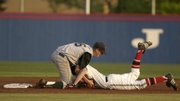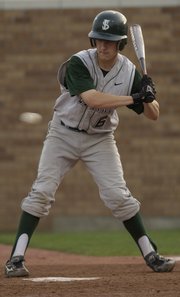 After giving up two earned runs in 11â3 innings to Lawrence High the night before, E.J. Swanson erased any memory of the disappointing performance Thursday night at Hoglund Ballpark.
He didn't redeem himself from the mound, though.
The junior right fielder went 3-for-3 with two doubles and produced the go-ahead run in Free State's 8-2 victory against Lawrence High.
"Last night, after the game, I was down a lot," Swanson said about Wednesday's 4-1 LHS victory. "Tonight, I just had to bounce back from last night. And our crosstown rivals, we didn't want them to sweep us, so we at least had to split."
Thursday's game saw only two extra-base hits - both doubles by Swanson. The junior, who hit sixth in the Free State lineup, started the Free State rally in the fourth inning.
LHS junior Joe Kornbrust held FSHS scoreless the first three innings, but gave up a double to Swanson in the fourth inning with runners on first and second. Tony Williams attempted to make a diving catch in center field but came up empty. As a result, two Free State runners crossed the plate. The Firebirds didn't trail the rest of the game.
"It looked kind of like a beach ball coming in," Swanson said of the RBI double. "I think playing in this nice ballpark with the lights on at night makes me see the ball a lot better than the daytime when it's bright."
Swanson also had a single and was hit by a pitch. He smoked his second double into the gap in right-center field. The ball hit the wall to complete his 3-for-3 night.
"When he's on, he works the middle of the field, and that's where the most real estate is," Free State coach Mike Hill said. "The other advantage he has is he has a good eye. He knows the strike zone well, and when he can get up in the count, he's a tough customer."
Junior pitcher Cody Lown pitched five innings and earned the victory. He was efficient for the Firebirds (13-4), giving up six hits, an earned run and one walk and striking out three.
"Don't try to hit the ball over to Robinson Gymnasium," Lawrence coach Brad Stoll said he told his batters. "It's always that soft-throwing left-hander where I'm sitting over there, pulling what little hair I have left, asking 'Why can't we hit this kid?'"
Lown almost exclusively threw breaking balls to LHS batters. Stoll said the Lions (10-8) knew the offspeed pitches were coming.
"In baseball circles, so many people want to hang their hat on velocity," Hill said. "Trust me, it's a nice thing to have. But when you can mix things up and be around the plate, particularly at the high-school level, there's a chance to be successful."
Sophomore Aaron Rea hit well for Lawrence, going 2-for-3 with an RBI.
"We had three or four line drives right at guys," Rea said. "If we get those to fall, we might have a couple more runs early on, which might have kept us going later."
LHS sophomore Clint Pinnick was a victim of sound Free State defense in the bottom of the sixth inning. With a man on second base, Pinnick smoked a pitch toward the gap in right-center field. However, Free State second baseman Jordan Dreiling snagged the line drive, then stepped on second base to complete the double play and end the final LHS threat.
Thursday night's game didn't count toward the Sunflower League standings. Free State will play host to Shawnee Mission East at 4:30 p.m. today, while Lawrence High will go on the road to play Shawnee Mission South.
Copyright 2018 The Lawrence Journal-World. All rights reserved. This material may not be published, broadcast, rewritten or redistributed. We strive to uphold our values for every story published.