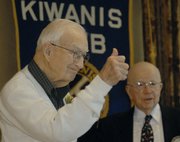 Ninety-two year old Al Gallup has used a simple philosophy to live a life that has included flying combat planes over the Himalayas to running a downtown Lawrence insurance agency.
"Stay well, do good and keep in touch," Gallup said. "That's what my minister always tells me."
Gallup and Marilyn Dobski, a co-owner of 13 area McDonald's restaurants, were honored Thursday with the Lawrence Kiwanis Club's Substantial Citizens of the Year award.
Gallup and Dobski were praised as tireless volunteers for the community.
"Marilyn is a lady who has yet to meet a challenge that she will not undertake," said Rusty Thomas, a Kiwanis member who presented Dobski with the award.
Dobski was credited with serving on a long list of community boards, and for her work in promoting the Ronald McDonald House program in Kansas. The program provides lodging for families who are visiting ill children in hospitals.
"We have tried to follow the philosophy of McDonald's founder Ray Kroc who said that whatever restaurants you own a community in, you should try to give back to that community," Dobski said.
Gallup was honored for community service, including his efforts to help found the Lawrence Presbyterian Manor Retirement Community. He also was honored for his military service. In World War II he was the pilot for multiple missions to transport cargo and troops over the Himalayas to supply the Chinese with support in their battle against the Japanese.
After the war, Gallup returned to Lawrence to serve as an instructor in Kansas University's ROTC program. He later was an executive for Northwestern Mutual in Lawrence.
"Al's contributions to the community have been what is important for all us to remember," said Russell Mosser, a Kiwanis Club member who presented Gallup with the award. "His work has been on the quiet side. He's always ready to lend a hand that can be depended on, a quiet approach to giving assistance where needed, a cheerful smile, and attitude that it is more important to get the work done than to make a big deal about it."
The Kiwanis Club has been giving the award on an annual basis since 1960.
Copyright 2018 The Lawrence Journal-World. All rights reserved. This material may not be published, broadcast, rewritten or redistributed. We strive to uphold our values for every story published.