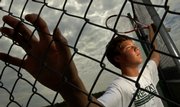 Two summers ago, Michael Swank suffered a stress fracture in his left foot playing tennis. He didn't know the extent of the injury and mistakenly played through the pain. He was injured, but he thought he was just sore. Swank ended up playing through another match with a broken foot.
He was only 13 - not the best idea.
Swank played so much tennis he slowly developed tendinosis in his right shoulder. With two injuries, he had to take time off.
Microtears in the connective tissue near the shoulder caused the tendinosis. Swank opted out of surgery last summer and participated in daily shoulder exercises to regain his strength.
Two years later, his foot is healed, but Swank still feels lingering effects from the shoulder injury.
The pain didn't stop Swank, a can't-miss 6-foot-5 talent, from being the lone singles player in Lawrence competing in this weekend's Kansas Class 6A state tournament in Topeka.
Tournament play begins at 12:30 p.m. today at the Kossover Tennis Center.
Swank will represent the Firebirds but doesn't even attend Free State High; he is in the ninth grade at West Junior High. The freshman rolled through junior-high competition, losing only once early in the season because he still was getting back into shape from the injuries.
High school rules required Swank to finish the junior-high season before playing for Free State. Swank went 14-4 in singles competition for Free State this season. His goal at state this weekend is quite simple.
"To win," Swank said. "Nothing less. I've played all the contenders before. You just have to go out there and believe. If you go out there thinking you're going to lose to a guy, you have no chance."
Swank's 6-5 frame makes his strengths on the court rather obvious. His lengthy reach, combined with his power and aggressiveness, creates mismatches near the net. It's difficult to lob the ball over him.
"He's been a talented player highly ranked in the Missouri Valley for years and years," Free State coach Jon Renberger said. "We knew he was going to end up being No. 1 on our ladder and right in the mix for a state qualification."
Swank has a developed kick serve, which many high-school players don't know how to execute. Swank, on the other hand, taught himself at age 11. It took him three months to master the serve.
"I saw it and became obsessed with it," Swank said. "I was hitting ball after ball after ball until I got it down. That's one of my weapons. When it kicks up, it's nasty. It really can kick up out of people's strike zone, so they have a lot of trouble with it."
Swank said he knew most of the competition in Topeka, but he's probably most familiar with Shawnee Mission North's Kevin Moore. The two began their rivalry in doubles competition three years ago in Missouri Valley competition.
"We got an overhead, and we pegged a kid with it," Swank said. "The kid fell on the court and was crying. My teammate and I fell on the ground laughing because it was so funny. We ended up getting a point penalty in a crucial situation for unsportsmanlike conduct. The point lost us the set."
The "kid" was actually Moore. It's fair to say Swank hasn't had such easy shots against Moore in three years. Moore is 25-1 on the season and recently defeated Swank at the Sunflower League Championships in Leavenworth.
"He thrashed me," Swank said. "It was bad, too. I was embarrassed. It was partially because I hadn't played against that high of competition in a while."
Swank said he wanted a rematch this weekend in Topeka.
"I hope I see him at state," Swank said. "I want to take him down and give him a little shock. I think I could see him early, like in the second round."
Free State also will field senior Jack Hull and junior Charlie Moffet in doubles competition. The duo takes a 16-7 record into the state tournament. Hull and Moffet reached the state tournament last year but lost both their matches.
"I know we definitely want to place," Hull said. "We've played together for two years and know our strengths and weaknesses. In doubles, it's all about teamwork."
Copyright 2018 The Lawrence Journal-World. All rights reserved. This material may not be published, broadcast, rewritten or redistributed. We strive to uphold our values for every story published.