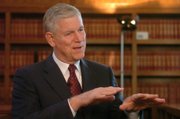 Violent extremism is the biggest threat to the United States and the American way of life since the Civil War, retired Air Force Gen. Richard Myers said during a speech at the Dole Institute of Politics on Wednesday night.
"This is an enemy that is determined. It has a long-range plan," said Myers, former chairman of the Joint Chiefs of Staff.
Extremists have no regular military but they use terrorism with a total ruthless disregard for human life, Myers said.
"They are going to work on our minds like they work on the minds around the world of folks where they use terror to create fear," he said.
Myers spoke to more than 500 people who filled the Dole Institute on the Kansas University campus. The Kansas State University graduate gave this year's Dole Lecture. The speech also was simulcast at KU's Edwards Campus in Overland Park.
Myers became Joint Chiefs chairman Oct. 1, 2001, less than a month after the terrorist attacks of Sept. 11. Seven days after he took office, the nation was at war in Afghanistan. He retired Sept. 30, 2005, while the U.S. was embroiled in a second war in Iraq.
Myers described Sept. 11 as a "hammer blow to the head." He said President Bush was shaken by the attacks on the World Trade Center and the Pentagon.
"I think he felt, as commander in chief and president, he let the country down," Myers said.
Terrorists count on fear to cause their enemies to think illogically and make mistakes, Myers said.
"You see it every day in Iraq when they blow up hospitals and schools," he said.
Countering extremism should involve many areas of the country's resources, including strategies that involve economics, education and diplomacy as well as the military, he said. The war on terrorism and extremism will take time, he said.
"You've got to get people to not want to be in jihad," Myers said, referring to the Arabic term for an armed struggle.
Myers said he feels good about Afghanistan's future, but it needs a rural development plan to lure people away from the poppy fields. In Iraq, the U.S. needs to continue to pressure that country's government to improve its performance, he said.
During his speech and during a prespeech interview with the Journal-World, Myers said he tries to stay apolitical and declined to directly criticize politicians seeking a timetable for withdrawal from Iraq. He did say, however, that if Iraq falls, extremists will be emboldened.
"I think the ends that Congress wants are appropriate and the means - I think I'd be careful about the means and the signal it sends to ourselves, our troops and the signal it sends to our adversaries," Myers told the Journal-World.
But Myers was critical of the partisanship that has developed in Congress since the 2004 elections. Bipartisanship is needed to address the serious issues of extremism, he said.
Myers said his four years as Joint Chiefs chairman were not the easiest, but they were the most fulfilling because of the challenges in dealing with Sept. 11 and Iraq.
Myers' speech gave the audience "food for thought" about some serious issues, said Karl Brooks, associate professor of history and environmental studies at KU.
"I would have liked to hear more about his thoughts now that he's a private citizen about mistakes that were made," Brooks said. "He is in a unique position to look back and say we should have done things differently and I would encourage my successors to do them differently."
Lawrence resident Bob Burkhart agreed.
"He brings some valuable personal perspective. He's not pretending to represent national policy," he said.
Highlights of Gen. Richard Myers' speech
Here are some of the highlights of retired Air Force Gen. Richard Myers' speech Wednesday night at the Dole Institute of Politics:
¢ Morale throughout the military is still good. Myers recalled meeting a major in the Kansas National Guard at an airport recently. The major was headed back to Iraq after volunteering for a second tour of duty. The Guardsman thought his experience was needed, Myers said.
In August 2005, Myers wanted to visit military bases around the world to check on troop morale. He decided to take with him two comedians to entertain the troops. He also wanted an athlete to accompany him. The National Football League recommended former Chicago Bears and Kansas University football standout Gale Sayers. Sayers ended the shows with uplifting speeches, Myers said.
"They (troops) respected me. They laughed at the comedians. But they got tears in their eyes listening to Gale," he said.
¢ During a question-and-answer session with the audience following his speech, Myers was asked about atrocities committed by American troops in Iraq as well as earlier wars, including Vietnam.
Myers said that people in the military are a reflection of society. "We are imperfect. That doesn't mean we don't strive to be (perfect)," he said.
¢ Myers also said polls have shown that the military is still highly respected, not only in this country but also by military leaders and personnel in other countries.
¢ Myers said he has not read former CIA director George Tenet's new book, "At the Center of the Storm." He declined to comment on it beyond saying "some of what I've heard is pretty accurate." He did not offer specifics.
Copyright 2018 The Lawrence Journal-World. All rights reserved. This material may not be published, broadcast, rewritten or redistributed. We strive to uphold our values for every story published.