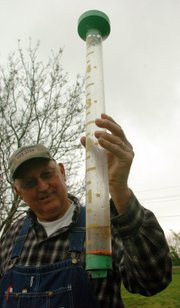 Kansas has taken in a big gulp of moisture during the past year thanks to Mother Nature.
Last May, the state was under abnormally dry to severe drought conditions, said Mary Knapp, a Kansas State University climatologist. Today, normal conditions thrive throughout.
The last time such conditions existed was in spring 2001.
"We have made a complete recovery," Knapp said. "It's been a long time since we've had such a nice outlook."
Knapp said a small portion of northwest Kansas had moderate drought conditions last week. Just three months ago, half the state had moderate to severe drought conditions.
"We have improved considerably in a short period of time," she said.
Douglas County has been bouncing in and out of drought conditions during the past year. Knapp said the county pulled out of the drought Feb. 27.
Jennifer Schack, 6News meteorologist, said the county has received above average rainfall since February but January was below average.
So far this year, Lawrence has received 10.16 inches compared to 9.01 inches normally.
Schack said the forecast calls for showers and isolated storms today and Friday with dry conditions this weekend.
Farmers are hoping those drier conditions continue for a while.
"Right now, we wish we had a week of sunshine," said Bill Wood, agriculture agent for K-State Research and Extension in Douglas County.
Wood said county farmers plant about 28,000 acres of corn this time of year. He said about 60 percent of the corn crop needs to be planted, but conditions have kept farmers out of the fields.
So, are we in for a wet summer?
Knapp said this summer is difficult to predict. She said it is "equally likely for conditions to be wetter or drier than normal and also equally likely for temperatures to be hotter or cooler than normal."
"It's up in the air," she said. "You really can't say which way things are going to fall."
Copyright 2018 The Lawrence Journal-World. All rights reserved. This material may not be published, broadcast, rewritten or redistributed. We strive to uphold our values for every story published.