Photo Gallery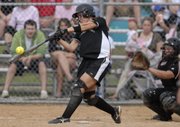 Free State softball vs. Lawrence High
Before the intracity softball showdown, Free State players arrived at their home field and smelled dead fish above the dugout.
Free State players were left in suspicion that LHS players played a practical joke on them, since both rosters were extremely familiar with the other. No one on Free State knew who planned the episode. Lawrence coach Reenie Stogsdill said she hadn't even heard about it.
This much is certain: The fish didn't affect Free State at all.
Free State swept Lawrence High in a doubleheader, 5-0 and 14-2, Tuesday on its home field.
"We didn't show any emotion because we didn't want them to get the satisfaction," Free State senior center fielder Aleese Kopf said. "It was just another tool to use to beat Lawrence High. I think they got what they deserved on that one. None of us took it personal, though, because we know Lawrence High and we're friends with a lot of girls on the team."
With one swing of the bat, Kopf sealed the second game with a grand slam down the left foul line. The hit rode the foul line so closely the softball clanked against the foul pole at 200 feet for Kopf's first home run of the season. After going 0-for-4 in Game 1, Kopf was a triple short of the cycle (3-for-4, four RBIs) in Game 2.
"I had been hitting them all out to left field the whole game, so I was like, 'It's about time for one to go over,'" Kopf said. "I wasn't going for a home run at all. I just wanted to get a hit, keep a line drive and get some runs in. But it's always nice to hit my first (home run) against Lawrence High."
Freshman pitcher Megan Smith earned the victory in Game 2, pitching five innings and giving up two runs and seven hits. She struck out three and still pitched a complete game since the Firebirds run-ruled the Lions.
Junior pitcher Catherine Smith pitched the shut out in Game 1. Smith, who went all seven innings, gave up only three hits, one walk and struck out four. Catherine Smith received enormous defensive help.
Sophomores Maggie and Rosie Hull could have generated an entire segment of "web gems" from their graceful plays in the outfield. Maggie Hull made a diving grab in right field in the top of the second inning to rob LHS catcher Caitlin Bowlin. Rosie Hull made two spectacular plays, robbing Samantha Hays in the sixth inning, then running down a Bowlin drive near the left-field line in the seventh.
"We've really been working a lot on tracking the ball," Free State coach Pam Pine said. "They have so much natural ability and they're quick learners."
The Hulls are extremely quick on the base paths as well. Rosie Hull had three bunt singles on the day, while Maggie Hull went 4-for-6 with two doubles. Maggie Hull is developing into a complete hitter, as evidenced by her opposite-field double that smacked the left-field wall in Game 2. Maggie Hull's singles up the middle had a certain frozen-rope zip about them.
"They really are the keys to my offense," Pine said. "They hit the ball hard. They can bunt, slap, run and they're just really good athletes."
Stogsdill pitched senior Sydney Seratte in both games for the Lions. Although Seratte gave up a lot of runs, she didn't receive much help from the defense. Six LHS errors created four FSHS runs in the two games.
"In the second game, I don't know what team that was, but it wasn't us that showed up," Stogsdill said. "We couldn't do anything right."
The Lions (1-13) managed two runs in the top of the fifth inning of Game 2 with RBI singles from seniors Lauren Kelly and Amanda Weishaar, but Free State already led, 14-0, before the hits.
"It was too little too late, which seems to be a trend with us," Weishaar said. "Our defense was the worst it's been all season and that's usually our strong point."
Lawrence High will play host to Shawnee Mission North on Thursday, while Free State (13-1) will travel to Shawnee Mission South.
Copyright 2018 The Lawrence Journal-World. All rights reserved. This material may not be published, broadcast, rewritten or redistributed. We strive to uphold our values for every story published.